This article is more than 1 year old
Motorola Defy Android smartphone
Hardy handset for the rough and tumble
Review As the first rugged - well, semi-rugged - Android handset, the Defy's ability to survive mistreatment by careless party-goers is the central pitch of Motorola's advertising campaign but there is rather more to it than that.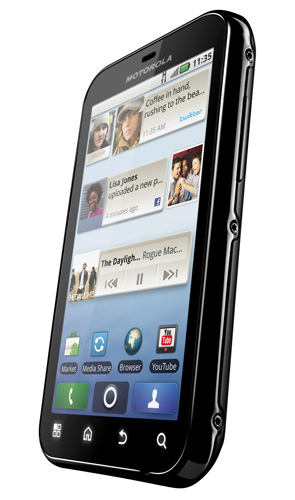 Rough diamond? Motorola's Defy
Let's start with the cost. The Defy is available from T-Mobile on contract for twenty quid a month which for a large-screen smartphone is a pretty good deal. Granted T-M's recent idiotic change of its fair use data policy was clownishly mishandled and it deserves a kicking for it but 20 knicker is still only 20 knicker.
Now let's take a look at what you get for your money. A 16 million colours 3.7in 480 x 854 capacitive touchscreen, an 800MHz processor with 512MB of RAM and 2GB of built-in storage, plus a chunky 1540mAh battery and a very handy form factor. At 59 x 107 x 13.4mm and weighing 118g it's one of the smallest and lightest phones around that features a screen above 3.5in.
In the absence of an official IP (International Protection) Code rating, "rugged" here means you can dunk it in up to 1m of water for 5 minutes without harm and that it's scratch proof and dust resistant. The first and last feats are achieved with the help of little rubber plugs that seal up the MicroUSB and 3.5mm audio ports and a very solid and tight-fitting battery cover.

Torx screws adornments provide a touch of machismo
The dunking test in my bath was passed with flying colours and the Gorilla Glass screen showed no ill-effects after being attacked with my car keys. I couldn't find any dust in Manchester in January, but if it keeps out water I'm prepared to believe it will survive being buried in the Kalahari too.