This article is more than 1 year old
Acer Revo RL100 media centre
The living room PC revisited
Review It's been a long time since PC makers started trying to get PCs into people's living rooms. Originally it was all about games, but consoles soon became a cheaper and better-supported option. Now, it's about TV and disc playing, in particular 3D, HD viewing and Blu-ray too. Acer seems keen to revive the lounge PC and with the Revo 100 it endeavours to address all these content choices.

Acer's Revo RL100: AMD PC with 3D and Freeview viewing options
This is a very slim-format PC, barely 25mm thick and with a footprint smaller than A4 – cut a 25mm strip of the width of an A4 sheet and you're about there. It can be used flat on the desk or slotted onto a heavy cast stand to sit vertically. It has a matt black finish – let's hope high-gloss, piano black is at last past its sell-by.
At the front are slots for SD and Memory Stick, a USB 2.0 port and a notebook-style Blu-ray drive. Round the back are two more USB 2.0 ports, mini jacks for mic and audio, together with optical audio, HDMI, gigabit Ethernet and a TV antenna connection. Perhaps the most interesting thing about the machine is the rectangular pad which slides out from under the Blu-ray drive.
This pad remote is an innovative way of communicating with your PC. It has two modes: keyboard and touchpad and you switch between them using the only physical button on the device, set into its back edge. In touchpad mode the pad is much like a notebook touchpad, though bigger and supporting multi-touch gestures. It's reasonably sensitive and, as far as Windows applications support multi-touch, an easy way of working.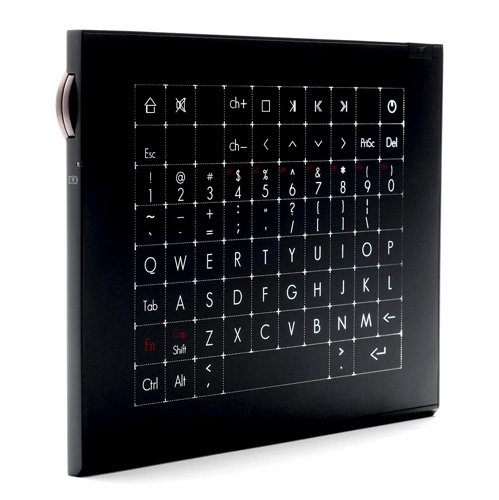 Tablet computing?
There are problems, though: the pad is larger than its active area and it's too easy to slide your fingers or thumbs into the dead area framing it. There's no delineation of the mouse button areas with textures or printed outlines, either, which makes single and double-clicks awkward. The bronzed control wheel at the edge of the pad, which acts as a volume control when the pad is docked in the Revo, becomes a mouse click wheel when you're using the touchpad.