Remote access
In keyboard mode, the pad illuminates to show a complete touch keyboard. The key layout on our sample appeared to be for a pan-European Revo, so most of the vowel keys were crowded with accented variants. There is a UK version, though, which is less busy – check you get one.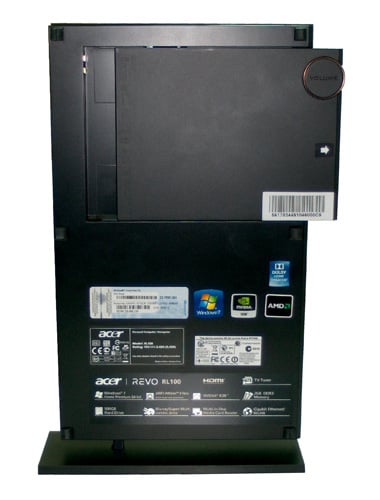 The tablet remote resides in the body of the beast
As well as the standard Qwerty keys, there are several more suited to a remote, including Home, Back and cursor arrows. They have a light, positive touch, sometimes a little over-sensitive, but each key-press is beeped, so at least you know when you've double-keyed.
The Revo 100 is based on a 64-bit, dual-core AMD Athlon II Neo K325 processor, slightly surprisingly twinned not with ATI graphics, but with an nVidia ION GPU. There's 2GB of DDR3 memory fitted and a socket for another stick, if you want to increase it. The Sata hard drive is a 2.5in, 500GB model.
It's good to have a Freeview tuner included in the machine, as it's then set-up through Media Centre for TV playback with a minimum of fuss. However, there's only a single tuner, so you can't watch one channel while recording another, and the tuner isn't HD-capable, an odd design choice on a machine geared to HD output through Blu-ray.
Benchmark Tests
PCMark Vantage Results

Longer bars are better
The machine works well. Although the processor runs out of steam if you try and play games that need much processor poke, it's well capable of running Blu-ray at 1080p with no noticeable artefacts, as well as HD content from other sources. It's obviously up to Internet browsing and can also stream content from a wide variety of sources, thanks to Clear.fi.