Home choice
Clear.fi is Acer's wireless sharing technology, designed by Cyberlink, which can connect up pretty much any DLNA-certified content sources and display them on your TV. It managed to take shared content from networked PCs and a Nas without problem and you can transfer clear.fi drivers from a USB drive for any awkward devices.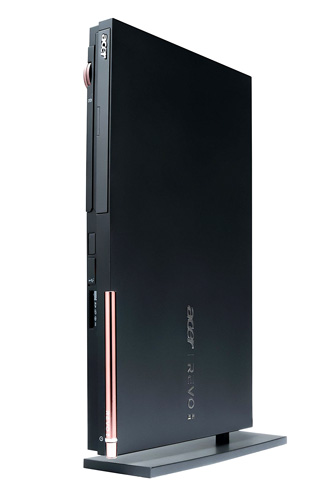 Turn on, tune in and fork out
PC Mark Vantage results don't show anything particularly startling for the Revo 100, which is slower in some areas than a typical notebook. However, it did well enough in the Comms and TV & Music categories to demonstrate where its strengths lie and it is near silent in use, except when the Blu-ray drive's running. As a media PC, it's closer to doing what's needed than any Atom-based machine I've seen.
All that's left is to wonder about the pricing. Yes this is a fully functional PC and copies of Windows 7 Home Premium don't come cheap, even for OEMs. However, you can get a Blu-ray player, like Samsung's BD-C8200, with most of the features of this PC, a lot cheaper.
Verdict
Do you pay £600 for a Windows 7 based media PC with Blu-ray, Freeview, PVR, 3D and wireless for Internet, or £350 for a standalone player with Blu-ray, Freeview, PVR and wireless for Internet. The decision to buy a Revo 100 comes down to whether you need the other facilities of a Windows PC in the living room. ®
More Desktop Computer Reviews...

Apple
Mac Mini
Server
Apple
iMac 21.5in
Cyberpower
Ultra Scylla
six-core AMD PC
Group Test
Mini Desktop PCs

Acer Revo RL100 media centre
Slim, smartly styled media PC with adequate performance and a novel wireless keypad.