This article is more than 1 year old
Mindjack
The future is mental
Review 'Do you wish to continue?' It's a question games have always asked after death – a challenge to players to overcome defeat and try, try, and try again. But when that same question is posed upon completion of every stage, as in MindJack, what initially comes across as over-politeness quickly begins to feel just plain apologetic. And, believe me, MindJack has a lot to apologise for.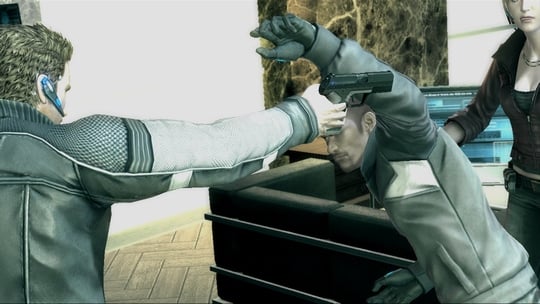 Disarm with dis arm
Painfully familiar third-person cover-shooting aside, MindJack's greatest failure is to squander its fertile premise. Set in 2031, a plot barely tangible enough to hang its maguffin on, sees nebulous governmental and commercial powers fighting a covert war to monopolise mindjacking – a technology that can hack into and control minds and machines.
It's a technology that should translate into gaming gold. While already touched upon in Deus Ex and Bioshock, among others, its promotion to central conceit promises a rich seam of novelty. But MindJack's unimaginative execution lacks the invention required to tap this potential.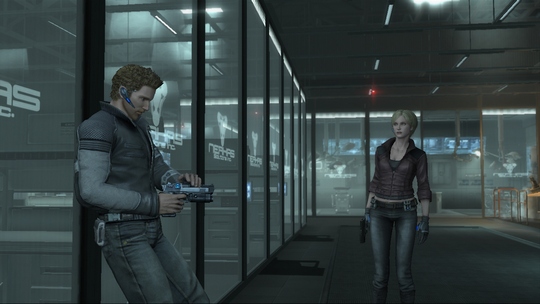 Wanna stroke my gun baby?
Just two powers distinguish field agent Jim from the generic cover-shooter mould of Marcus Fenix and Nathan Drake. The first, Mind Slave, exploits a brief state of vulnerability before an enemy's death to enslave their mind and force them to fight alongside you. The second, Mind Hack, allows you to leap out of Jim's mind, float about the battlefield all Chocky-style and take complete control of an idle machine or friendly NPC.