This article is more than 1 year old
Mindjack
The future is mental
Stop reading my thoughts and jack off
MindJack struggles, however, to integrate these powers in a consistently engaging manner. Mind Slave introduces an element of resource-management to combat, but enslaved enemies and machines are much weaker than their counterparts, and rarely survive more than a few seconds. And when you do enslave a sufficient number to trouble the enemy, the absence of squad commands relegates combat to a spectator sport.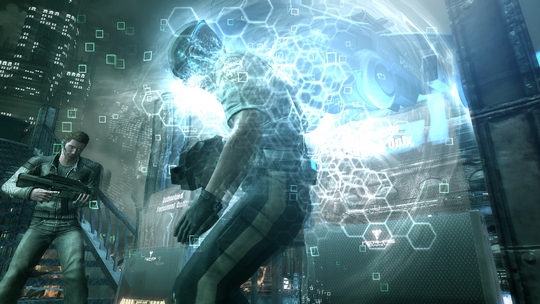 I'll have a Arrgh please Bob!
Mind Hack also suffers from the lack of squad commands. Circumvention and flanking tactics are rendered impossible by team mates who can't hold a position. Leave Jim's brain to reconnoître and MindJack's consistently weak AI takes over, often rushing him suicidally through the battlefield. The same occurs when felled.
Instantly ejected from Jim's mind, you need to inhabit his sidekick Rachel – never intelligibly introduced – and revive him using a third mind power – never clearly explained. But if Jim and Rachel are felled, it's game over. So it becomes a desperate race to reach Rachel before she sets her off on her own suicidal run to save Jim. MindJack? MindF*ck more like!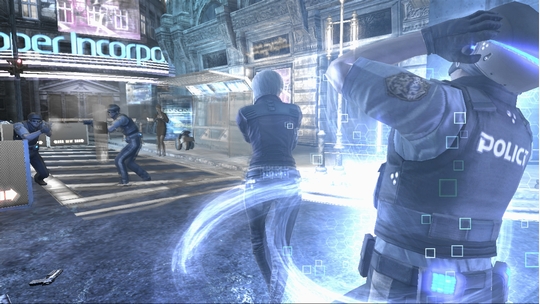 Mind if I cop out?
None of which would matter if the narrative and cover-shooter foundations were solid. But they're not. At best, developer Feelplus has crafted a poor imitation Western shooter, at worst an embarrassing cultural gaffe. MindJack debases the cover-shooter genre to abject stereotypes, where flimsy exposition and sketchy military flashbacks provide chiselled-cliché Jim's motive for a six-hour bullet-sprint, fighting dozens of identikit enemies across dozens of well-trodden levels.