This article is more than 1 year old
Mindjack
The future is mental
Concrete jungle
The fight through sterile airport lounges and grimy dystopian cityscapes against grunts, faster grunts and rocket-wielding grunts is bad enough first time around. But dismal checkpointing forces replays, of up to half-an-hour at a time, are especially painful when culminating in one of the uninspired boss battles against mechs, tanks, helicopters and, oddly, gigantic biotic gorillas.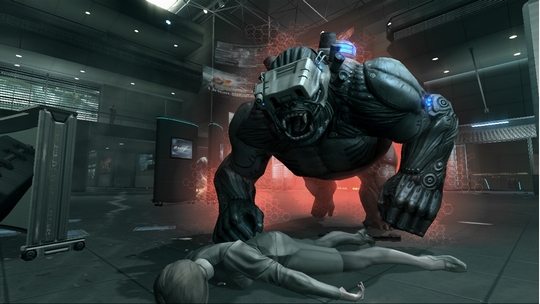 Over my dead body
To compound the drudgery, MindJack's on-line features offer the opportunity to hack into other people's single-player campaigns to aid or hinder them, much like Demon's Souls. And so, twenty-five minutes into your third retry of a difficult stage, you can suddenly encounter human opposition. Able to switch between enemies after death, and able to exploit distraction and break the confines of the game's AI to flank you, the balance of power rests firmly with antagonists.
Fortunately, hacking can be disabled in the options. And on the flip-side, the chance to hack an unsuspecting noob and run amok provides an addictive schadenfreude that temporarily elevates MindJack well above its otherwise lacklustre gameplay.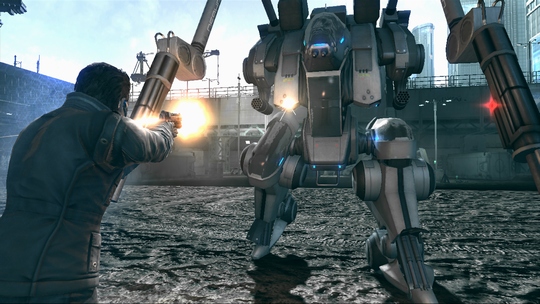 No mettle, just metal
Verdict
Towards the end of the game, your partner Rachel asks you to "shoot first, ask questions later." It's a facile cliché that typifies a lack of imagination and perfunctory cultural stereotyping. On this evidence, it's no wonder that developer Feelplus was recently disbanded. For it seems the company ethos was: shooting is the answer, Alas, MindJack never bothers to reveal the question. ®
More Games Reviews

Dead
Space 2
Little Big
Planet 2
DC Universe
Online
Mass Effect 2
For PS3

Mindjack
A fertile premise ruined by poor execution. Available on Xbox 360 (tested), PS3 and PC.