Still though, it is secret. And it has the same wings that the US military insisted on for the Shuttle
In this view, the X-37B is more in the nature of a swappable-payload reusable satellite than a "secret space warplane". But there are other factors which make it – and the suggestion that Russia has such technology too – quite interesting.
First, there's the fact that the X-37B is funded out of the so-called "black" or secret budget and the US Air Force refuses to offer any serious details on its specifications or mission. The only reason anybody knows about it is that before being taken over by the military the project was run and funded by various different US agencies including NASA. So it is "secret", at least.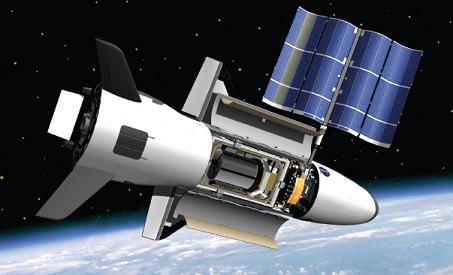 See? Just a satellite with wings
Second, the X-37B has a powerful orbital manoeuvring engine and a decent size fuel tank – and because it is reusable, its controllers don't need to eke out its fuel for years the way they would with a normal satellite. This means that the little spaceplane is well suited to the making of major orbit changes. This will allow it to appear suddenly over places it isn't expected and to evade location from below for quite long periods – as it did during its maiden flight, in fact.
Third, there's the fact that the X-37B's wings have a strong resemblance to those of the Shuttle. These wings are a good deal bigger and heavier than they need to be merely to achieve a runway landing from orbit: it would have been quite possible to use smaller "stub" wings, or even design the craft as a so-called "lifting body", using no wings at all and gaining lift from the shape of its fuselage.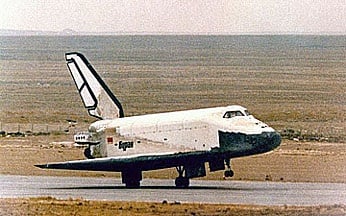 Looks familiar – but it's actually Buran, the Shuttleski
The Shuttle has big wings because the secret US space military wanted it to: the larger wing area means that the Shuttle has what is known as "cross range" capability. This means that the Shuttle, re-entering Earth's atmosphere, doesn't have to land at a site lying directly beneath its orbital track – it can glide hypersonically 1,000 miles to one side during its descent.
The US military of decades ago planned to use this capability to carry out cunning missions in which Shuttles would lift off from Vandenberg on the California coast and orbit the planet just once at a high polar angle before re-entering to land. Without cross-range, this would bring the Shuttle down in the ocean, as the Earth would have rotated beneath it while it was circling around. But the big delta wings mean that a Shuttle would actually be capable of setting down at Vandenberg again without trouble.