Naturally the Soviets had an answer to military Shuttles – the 'Hurricane' space-fighter
The cleverness of these "Mission 3A/3B" space hops would have been that the Shuttle could avoid flying over any hostile countries – it could largely avoid flying over land at all, in fact. Thus it would never be picked up by enemy radars or telescopes and nobody would know what it had done during its brief leap into orbit. Spy satellites could be positioned without anyone knowing – in this context it might be relevant that the first of the stealthy, supposedly impossible-to-spot "Misty" surveillance sats was launched by Shuttle, though not on a secretive Mission 3A hop from Vandenberg*.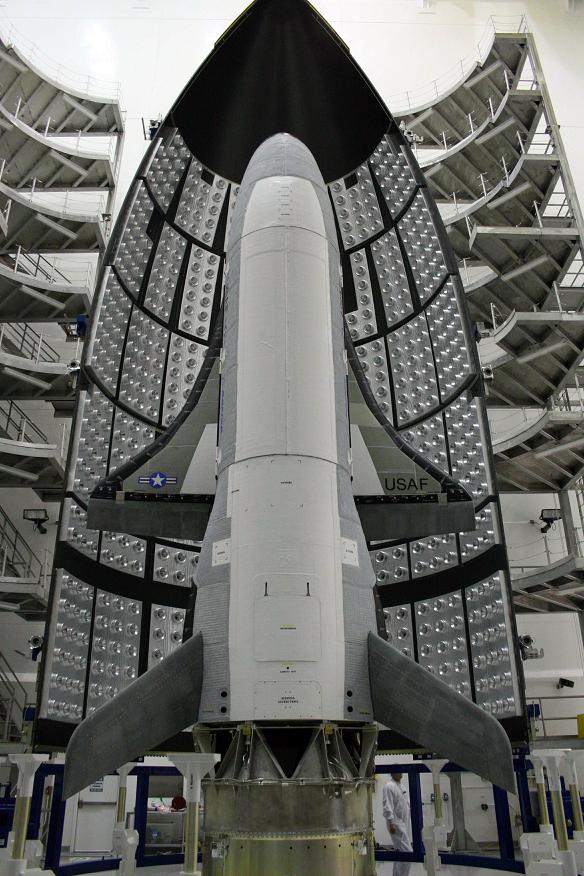 Wings do have a certain shuttley look to them, though ...
On a Mission 3B profile, the Shuttle would have secretly intercepted something in orbit and collected it, rather than dropping something off: nowadays the X-37B could do this too, though only a much smaller something. If that something belonged to someone other than the USA, its owners would never know what had happened to it. The snatch would happen out of sight below the horizon, above empty ocean or uninhabited terrain.
Unlike the Shuttle, the X-37B may soon fly from Vandenberg, as well as landing there. It could only satellite-nap the smallest spacecraft, and in any case this would be an unlikely mission – most unsubtle. Far likelier would be a close pass by a foreign satellite, either harvesting electronic and visual intelligence or perhaps carrying out a bit of deniable meddling – arranging for an opportune space-debris strike, say, or doing a spot of electronic interference. The target sat's owners would never be able to tell that the X-37B had been anywhere near their hardware.
So there may be a touch of warplane in the X-37B after all – or anyway there could be if the US military wanted. A second robo-spaceplane is already on order.
Evidently none of this is lost on the Russians, which is no doubt why they too have apparently done some work on an unmanned spaceplane. They ought to find such tech well within their grasp, having in fact made the first spaceplane to achieve an unmanned runway landing: the "Buran" ("Blizzard") shuttle – intended for manned operations, but whose single test spaceflight in 1988 was carried out unmanned.
The Russians, indeed, were thought at one time to be using their advanced spaceplane technology to make an overtly warlike craft: the rumoured "Uragan" ("Hurricane") space interceptor developed from the MiG-105 manned test craft was supposedly being developed at the same time as Buran. Manned, missile-armed Uragan space fighters would have been the Soviets' answer to the possible nefarious activities of military polar Shuttle missions out of Vandenberg – had these ever occurred. Modern Russian historians tend to the view that Uragan never existed – they say that the two 1987 launches which supposedly carried test craft were actually experiments associated with Buran.
It just could be that the Cold War is back in a small way, then, with the X-37B finally offering the US its polar-orbit undetectable military space mission capability and Russia perhaps resurrecting its own spaceplane-fighter technology of yesteryear.
Overall it seems likelier that in fact the US air force's plug-in, quick-launching, reusable satellite story will be the true one – or mostly, anyway. Such an effort would be just as attractive to the Russian space force, after all.
And anyway, don't bank on a Russian military spaceplane any time soon – even a pocket-sized one like the USA's. Disappointingly, Ostapenko rounded off his remarks on the Muscovite efforts by saying "as to whether we will use it, only time will tell". ®
Bootnote
*In the end no shuttles ever flew such missions: their lifting performance was not as good as had been hoped for, and they lacked the grunt to put heavy spy sats straight into polar orbits: this forfeits the helpful speed boost that an easterly launch into an equatorial orbit – as from Cape Canaveral – gets from the Earth's rotation.
Plans for extra strap-on boosters for military Shuttle flights came to nothing following the Challenger disaster of 1986.