Google has released a set of templates and a UI library for building Google TV–friendly websites, hoping developers will actually pay attention to its fledgling internet-meets-television platform.
Mountain View seems to think site developers are dying to build for Google TV. "As the Google TV platform continues to launch across more devices, developers are probably searching for an easy way to bring great content to Google TV users," the company says in a blog post. "We're happy to announce that we have an answer." But Google TV has received lukewarm reviews, and many big-name media companies are actually preventing their sites from being viewed on the platform.
Google TV puts a Chrome web browser atop an Android operating system that's been ported to a Intel Atom chip designed specifically for consumer electronics devices. The idea is to combine the internet with television, offering a single interface for organising, searching, and viewing broadcast TV as well as stuff from across the net. Sony and Logitech launched Google TV contraptions in the fall, and Vizio has one in the works as well.
But ABC, CBS, and Hulu continue to prevent Google TV users from viewing videos on their websites, and it's unclear how many people are actually willing to pay for Google TV hardware. The LogiTech Revue – a Google TV settop that must be used alongside a television – sells for $300.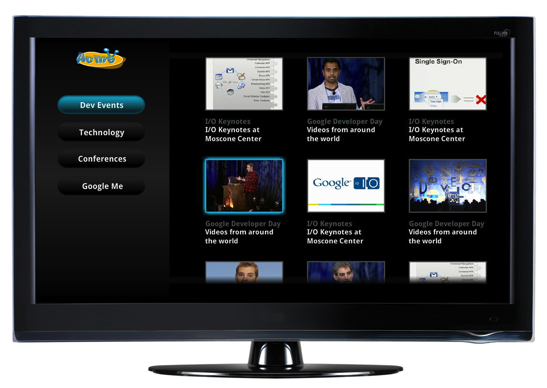 Google TV site template
But despite rumors that production would be halted on the LogiTech Revue, Google still has high hopes for its platform. And as it continues to tweak the platform and negotiate with reluctant media giants, it's hoping for more love from everyday site developers as well.
The company already offers a guide for optimizing sites, and now it provides two templates intended for video sites that are also, according to the company, suitable for photos and other multimedia. There are two versions for each template, one that uses Flash, and one that doesn't (it uses JavaScript).
Yes, for all its talk about web standards, Google still backs Flash. That's what runs YouTube and so many other video sites across the web.
All templates are open-sourced under an Apache 2 license, so you can make changes as you see fit. Google has also open sourced the Google TV Web UI Library, a way of ensuring that sites can be easily navigated using the platform's D-Pad (directional pad) technology, essentially a touch pad for your TV. Both the JavaScript templates use this library.
You can download the templates here, and you'll find the library here. Google plans to eventually offer an SDK for building local applications for the platform as well. ®
Similar topics