Data Robotics grows up for business
Thin provisioning, SSD and tiering
---
Data Robotics is growing up. It has boosted its Drobo storage products for business use, adding thin provisioning, SSD support, tiered data placement, a rackmount box, and a new interface.
The Drobo product is known for extreme ease of use, users being able to populate it with 3.5-inch disk drives of any size, and its BeyondRAID data protection scheme. Over 150,000 customers use them. In base form it comes as a curvy-cornered glossy black desktop box with simple colour-coded lights indicating status and capacity usage. The range has grown from its initial consumer focus to the small end of the small/medium business (SMB) market, with eight-slot file-sharing and iSCSI block access products.
There are three products in the Drobo business range, building on two of the existing ones.
The eight-slot Drobo File Sharing for Business product builds on the DroboPro FS eight-bay file-sharing product but has more performance and a new management dashboard interface. It is accompanied by the Drobo SAN Storage for Business eight-bay product, based on the existing Drobo Elite eight-bay iSCSI product. Again this offers higher performance than the previous product – plus the new dashboard.
The third product is all-new, being a 3U rackmount, 12-slot, SAN Storage for Business offering.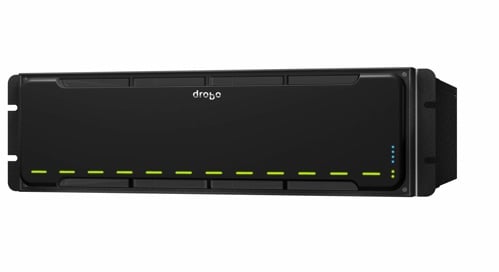 Rackmount, 12-bay SAN Storage for Business Drobo product.
The new products have enhanced hardware, software and firmware (for the BeyondRAID functionality) compared to the previous products. They also have automated thin provisioning so that only disk space needed for writing data is allocated to applications using the Drobo, and not the full logical allocation.
As used capacity rises towards the array's maximum, lights on the unit and indicators in the dashboard software interface signal this fact. These new Drobos also automatically de-provision, returning deleted storage to an unused capacity pool.
The 12-bay product will have a data-tiering facility added to it, as an extension to the BeyondRAID firmware. Users will be able to set up the storage so that, for example, high-access database files are stored on SSDs, mail files on fast SAS disks and media files on bulk-capacity SATA drives.
Data Robotics says that, once set up, the tiering is automatic, fine-grained and adjusts itself in real-time
El Reg has a strong feeling that even higher slot-count Drobos are coming – as this would justify having a separate management interface Ethernet connection and enable better use of tiered data. It is only our feeling though.
All three new products support SATA 3.5-inch form-factor drives. The 12-bay has a 6Gbit/s SAS interface as well and can have SATA and SAS disk drives and/or SAS solid state drives (SSD). The flash options will be announced in the second quarter of this year. The SATA drive choices include 3TB drives, providing up to 36TB of raw storage capacity.
Drobos can use 2.5-inch drives if they are mounted in 3.5-inch carriers. We might expect dedicated 2.5-inch drive Drobos to arrive, possibly later this year. The two new eight-bay products have two 1Gbit/s Ethernet interfaces, while the 12-bay has three of them – plus a separate 1Gbit/s Ethernet interface for management functions.
Data Robotics says these are the best-performing Drobos yet, and support server virtualisation, email, and file-sharing/offsite backup applications for SMB companies. The eight-bay file sharing product includes Drobo Sync replication for offsite backup. The 12-bay product has redundant power supplies and most components are field-swappable.
The dashboard management interface can be used to look after several Drobo units. A 24x7 DroboCare service offering is available. The eight-bay produces are available now. The 12-bay one will be shipping in the second quarter, but can be reserved now. Prices start from £1,409 excluding VAT. ®