This article is more than 1 year old
Facebook moves into Sun Microsystems carcass
Zuckerberg fills Ellisonian black hole
Facebook is moving into the space vacated by Sun Microsystems when it disappeared behind the Oracle Iron Curtain.
The social networking giant has also purchased 22 acres just adjacent to the old Sun campus in Menlo Park, California. At a press conference this morning announcing the new headquarters, the company said it would begin the move later this year. "We've obviously very excited," said Menlo Park mayor Rich Cline. "This was a highly anticipated announcement."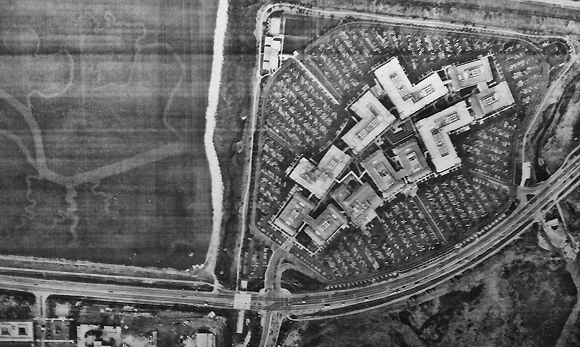 Facebook flies into the Sun: in addition to purchasing the old Sun Microsystems campus, right, Zuckerberg and company have purchased two adjacent buildings, bottom left (click to enlarge)
Facebook was founded in a Harvard dorm room, and when the outfit first moved west, Mark Zuckerberg and his cohorts set up shop inside a cheap rental house just down the road from Menlo Park in Palo Alto, California. The company's first official office was in downtown Palo Alto, but in 2009 the company moved a few blocks away, into a massive hanger formerly occupied by HP spinoff Agilent.
The company has been looking for a more-permanent home since that move, and rumors indicated that it was eyeing the old Sun campus, which is only 6 miles from the company's existing offices.
The sprawling campus was built in 1994 and 1995, and it housed Sun until it and its open source ambitions sadly disappeared into Oracle. The old Sun site covers 57 acres and nine buildings covering roughly 1 million square feet. The company's entire operation will move to the campus and the adjacent 22-acre site on Menlo Park's Constitution Drive.
Facebook now employs about 2,000 people, backing a website that boasts over 500 million users. About 1,400 of those employees are in the San Francisco Bay Area, and today, the company said it is moving in part because it believes it will continue to grow. The first group of employees will move in June or July. The current office on Page Mill Road in Palo Alto will remain in operation until the end of 2011 and possibly into 2012. ®