Open...and Shut For those who have built their careers coding in Java, a recent Forrester report should give them hope that Java will continue to put food on the table for a long time. Sort of.
While Forrester analysts Jeffrey Hammond and John Rymer insist Java has "a long future at the core of enterprise computing architectures," they're less sanguine about its relevance in mobile computing, increasingly ground zero for both consumer and enterprise computing.
Java's future, in other words, is "alive and well but limited," as the report's authors declare.
Nor is Java helped any by the political infighting that has plagued its development over the last few years. Sun had its share of detractors for its (mis)management of Java, but the ire reserved for Oracle's manhandling of Java and its Java Community Process takes the criticism to a new level.
Perhaps most notably, the Apache Software Foundation dumped its support for Java's governance processes, and the open-source crowd also decided to fork the popular Hudson code management project.
It also leaves Oracle with one more black mark against its reputation with developers. Sure, the Hudson project will live on, particularly with the support of Java veteran Sacha Labourey's new Java-only Platform-as-a-Service company Cloudbees. But what Oracle loses is credibility.
Perhaps the Java giant doesn't care. After all, Oracle hasn't been shy about shuttering support for developer-friendly languages like Ruby-on-Rails. It's a follow-the-money enterprise, and it clearly sees more money in controlling Java with an iron fist than cajoling a crowd of open-source developers with a velvet glove.
This might be OK in the 20th-century server-centric enterprise market - where else would an enterprise developer go except to Microsoft's .Net platform? - but I don't think it plays in the 21st-century mobile-centric enterprise market. The mobile market doesn't care about Java. Not in a way that helps Oracle, anyway.
Application developers are moving away from the server and to mobile clients, as a Forrester survey reveals: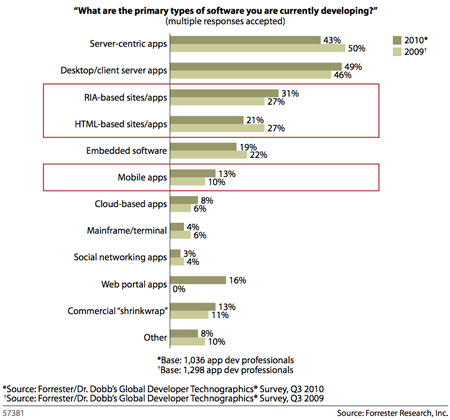 ZDNet's Jason Perlow reasons this shift will benefit Java-based Android more than Apple, in large part because of Android's Java heritage.
Even if true, it really doesn't help Oracle.
And there are reasons to doubt that Java's history in the enterprise necessarily will translate into Java-based mobile development. After all, server-side engineering is very different from client-side development. Part of the reason for the rise in PaaS vendors is that client-side application developers don't want to have to learn the "guts" of server infrastructure. They offload it to the Herokus of the world.
An Android developer isn't, in other words, necessarily a Java developer, and certainly the skillsets of enterprise Java server engineers aren't being repurposed for mobile application development.
It's also good to note that as important as Java will continue to be in the data center for years to come, the rising generation of application developers are being raised on JavaScript, HTML5, PHP, and other languages.
Indeed, as the Forrester report suggests,
Fewer young developers will learn Java first. One of Java's greatest strengths has been the number of young developers who learn it as a first language. As Java becomes less and less of a client-side language, we expect to see educational institutions switch to other languages for primary education, ones with stronger client-side representation such as JavaScript and HTML 5. Over time, developers will begin to view Java as a server-side language for enterprises - like COBOL.
So while Java may be important for server-side engineering for years to come, it has already lost relevance as a client-side engineering tool, which trend is unlikely to reverse itself. Oracle, in other words, owns the past, but seems to be sacrificing the future in order to keep a firm grip on that past.
The company has sought to mint Java's mobile use through lawsuits (against Google Android) and seems intent on an aggressive licensing strategy for Java on mobile devices. But this is only likely to move more mobile development off Java to unencumbered platforms.
Will it matter if Oracle fails to find relevance in mobile? Well, it won't negatively impact Oracle's earnings for years to come, as its enterprise customers will continue to feed it truckloads of cash.
But over time I expect Oracle's failure to engage client-side enterprise developers to have a significant, deleterious effect on the company's ability to make money. Developers are the new kingmakers, and particularly mobile developers.
Oracle won't be a comfortable position if it owns the data center but cedes client-side application engineering to someone else. Microsoft showed long ago that owning the end-user drives a lot of infrastructure decisions.
Developers matter. Oracle spurns them, but that attitude will come back to haunt it. ®
Matt Asay is senior vice president of business development at Strobe, a startup that offers an open source framework for building mobile apps. He was formerly chief operating officer of Ubuntu commercial operation Canonical. With more than a decade spent in open source, Asay served as Alfreso's general manager for the Americas and vice president of business development, and he helped put Novell on its open-source track. Asay is an emeritus board member of the Open Source Initiative (OSI). His column, Open...and Shut, appears twice a week on The Register.