This article is more than 1 year old
Steve Woz: From wooden Apples to iPhone love
Computing the human equation
Woz remembers
The Apple I and II designs and their internal organs were things of beauty, Woz recalls. He enthuses about the Apple I boards he built by hand and the relatively small number of chips used in that very first machine. "I wish [people now] could see the hand-wired boards. I went in at night, made little drawings – on a drafting table – of the boards with every single little red wire. I looked at it and was 'Wow'."
There were several key choices Woz made that separated the machine from the rest of the hobby-computer crowd and – eventually, when those same choices reached the Apple II – set Apple apart from the Intel/PC herd. For one, he picked the 6502 over the Intel 8080 used in Bill Gates' object of affection, the MITS Altair 8800. Apple stayed free of Intel until 2005, when Jobs announced that Macs were coming off the Motorola/Freescale and IBM PowerPC chips by 2007. Woz's decision to go non-Intel with the Apple I was partly down to price. The 6502 was cheaper than Intel's 8080.
The other important choice was the bet on dynamic RAM (DRAM) at a time when PC hobbyists used static RAM (SRAM). SRAM was powerful and more reliable, but it was expensive. Around the time of the Apple I, DRAM - invented in 1967 - was finally affordable enough for Woz to pack in 4K of memory and allow the Apple I to run relatively quickly.
"The 4K of memory with these dynamic chips was finally half the price of using static and it really made the things go," according to Woz. "That was the first time there was enough memory to make a useful computer that was going to be affordable by an average person - that's one of the keys that isn't always brought out.
"All the other little hobby kits used static memory. Why? [The people building them] looked at Intel data sheets, and Intel data sheets want to show a simple diagram. They don't want to show how to refresh dynamic memory ... so everybody just copies the Intel data sheets to build these little kits. My goal was different."
But compared to the Apple II, the Apple I was a Frankenstein's monster, a terminal that Woz modified and that he used to access the world's first wide-area packet-switching network: the US government's ARPANET (Advanced Research Projects Agency Network), one of the foundations of today's internet. The wood-encased clunker used a TV set for a monitor, had a relatively expensive $60 keyboard, and components Woz says he had optimized to run at modem speed - ARPANET peaked at 56Kbps.
That's all nicely nostalgic, but it's the Apple II that most warms Woz's heart. The Apple II, he says, deserves its seat in the Computer History Museum's $19m exhibit on the first 2,000 years of computing. "Everything we were doing was catching a lot of publicity in the press, so everything we did was getting articles," he says. "We sort of had a feeling.
"It didn't drive me, but the Apple II – we knew this one was going be a history thing. It had color, games. It had so few parts. It was so affordable and buildable, and [it] had more versatility and expandability. It was a leap ahead of all the others at the time. The Apple I wasn't designed as a computer. The Apple II was."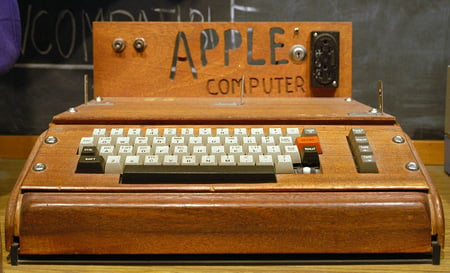 That's no bread bin, that's an Apple I
The Apple II had a 1MHz MOS Technology 6502 processor. It offered expandable memory, rather than limit you to a mere 4K. And beginning in 1978, Apple offered an optional floppy drive for storage and file transfer.
"The Apple II was designed from the ground up, and it was good enough to change the world," Woz recalls. Once his work was seen by other members of Silicon Valley's Homebrew Computer Club, which included Jobs, Woz believed that it was open for others to copy.
The conceptual bit
These machines were more than just a collection of parts. They were new ideas. "The biggest challenge wasn't in terms of abilities or parts affordability. It was the realization of the whole formula to build a very small machine that anybody could have - that I could have myself," Woz says. Once he had created the Apple I and was connected to other computers on ARPANET, Woz says, he realized how powerful a few microprocessors and a little memory could be.
"As soon as I realized - my gosh - what a microprocessor was, what its instruction set was, I instantly knew I was there and I would get there. I got there very quickly and hastily with the Apple I, not designing it from scratch but modifying an existing terminal," he says.
Those early Apple machines set the company on a trajectory to superstardom. Together with pal Steve Jobs and Ronald Wayne - a friend of Jobs from his work at Atari - Woz founded Apple Computer on April Fools' Day 1976 with just $1,300. Just six years later - with no small help from early investor and business adviser Mike Markkula and many others - Apple became the first PC company in a mosh pit of newcomers to hit $1bn annual sales.
Maybe the Apple II's price helped hit those sales figures: an entry-level machine with 4K of RAM cost $1,298. By comparison, the rival Commodore 64 - also in the vanguard of that PC revolution in 1982 - debuted at $595, and later dropped to $199.