This article is more than 1 year old
Steve Woz: From wooden Apples to iPhone love
Computing the human equation
Must ... resist ... Jobs ... reality ... distortion ... field
Thirty-five years on, people are buying the descendants of the Apple I and Apple II in droves: Macs, iPhones, iPads, iPods. The company Woz helped create earned $6bn on sales of $26.7bn during its most recent financial quarter, a net-income improvement of 78 per cent over the same quarter in 2009.
By comparison, Microsoft - which got its big break when IBM's PC answered Apple in 1981 and which now provides the OS for about 90 per cent of the world's PCs - made $6.6bn income on sales of $19.9bn during the same holiday-shopping quarter. Microsoft's income was flat, and sales grew a mere 4.8 per cent.
The Macintosh - the successor to those early Apple machines (we'll ignore 1983's short-lived $9,995 Lisa) - now accounts for around eight per cent of the PC market. The iPhone chomped a quarter of the US smartphone market in less than three years, and 70 per cent of MP3 music players sold remain iPods, nearly 10 years after they arrived.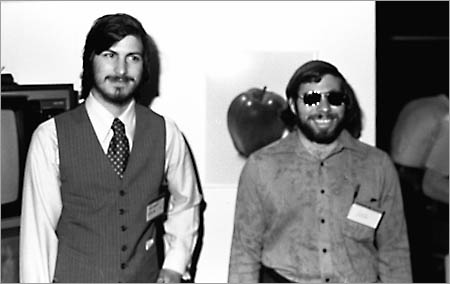 Woz (right) with Steve Jobs: from little Apples come big things
Chatting at the opening of Revolution – an exhibition that celebrates the first 2,000 years of computing – Woz said that people thousands of years in the future will have an even higher opinion of Apple than they do today. Among fanbois, that's not possible, but there you have it.
The whole industry developed not because one person thought of a specific idea, and Woz reckons he may have helped accelerate the PC revolution by a day, a month, or a year. But he believes that Apple's ideas, the technology those ideas produced, and the impact of that technology will see company's mythos stand the test of time.
"Apple is going to be as significant and important as IBM and probably better remembered than a lot of the early computers that were so important," Woz says. "We analyze the Babbage Engine - we've recovered that - but the Babbage Engine affected very few people in real time. But Apple Computer is so immense in the world that it will never be forgotten."
We might argue that the Intel-based PC was immense, as well. In 1982, IBM delivered a PC that ran an Intel 8088 processor and after a brush with PC-DOS, Microsoft's MS-DOS 1.0 operating system. That PC, which came with an expandable 16K memory and was priced $1,565, made Time Magazine's machine (AKA person) of the year in 1983. It also gave Microsoft its big break en route to becoming the world's biggest software company. PCs inspired by that original Intel architecture have touched more people worldwide than Apple IIs or Macs.
But Woz points out that Apple came first.
"Apple was the company that made personal computers visible. Sure, it would have happened without Apple, and sure it was easy for a lot of other people to do it once Apple did it, but at least we took that step first."
And Apple had knack for simplifying the components and improving ease of use via a simple GUI interface. "Apple is probably the best company in the world for keeping things not just unchanging but keeping things simple, so you don't get a mess of clever programmer ideas dropped into every product that then confuse the simple user."
But even Woz hates MobileMe
Needless to say, Apple isn't without its missteps. Not every Apple product was an Apple II or iPhone. In 1996, the company's Bandai Pippin failed to dent gaming and is a badly written footnote to the success stories that are the Xbox, PlayStation, and Wii. The Newton failed to ignite the hand-held computing market - that honor went to Palm's Pilot 1000 and Pilot 5000 in 1996. And at 15.8 pounds (7.2kg), the Macintosh Portable was, well, anything but portable.
Fortunately for the Legend of Steve Jobs™, those stumbles happened after the wünderkind had left Apple in 1985, before he returned to Apple through the acquisition of NeXT Software at the end of 1996, and prior to his assuming the role of full-time CEO at the beginning of 2000.
Fortunately for Woz's legacy, Apple's period of wandering in the wilderness occurred after he left Apple for good - and in a huff - in 1985.
And for all the talk of Apple's gift for simplicity, Woz acknowledges that the company sometimes gets it very wrong indeed. MobileMe got off to a rocky start when it replaced .Mac in 2008, and even now, he says, it has trouble synchronizing your data between your iPhone and Mac. "MobileMe will sync fine with Google, and then Apple will change MobileMe one day and now it's not syncing with my Gmail calendar, and I live on my Gmail calendar," he says. "These things happen all the time."
iPhone into the future
But, yes, Woz loves the iPhone. "It's unbelievable, to look at an iPhone, and in this tiny little inside strip here lies a computer a millions times what this comp is," he told us clutching an iPhone while gesturing at the Computer Museum's Apple II that he recalls so fondly.
"The power, incredible displays, the sensors, and the technology, and its has cellular, Wi-Fi and Bluetooth – things we'd never consider back then. And a microphone and all the programming. Today's computers blow my mind – what an incredible tool we have."
And the human part of the technology equation Woz values so much? The revolution that's putting computer power in the hands of the masses continues. "Anybody who's learning software to write an app for an iPhone is in a huge world right now." ®