Verizon iPhone 4 jailbroken – already
The Chronic Dev Team strikes quickly
---
Verizon's CDMA-equipped iPhone 4 won't appear in stores until this Thursday, but it has already been jailbroken.
Last Friday and Saturday, the ever-helpful folks of the Chronic Dev Team rolled out new versions of their easy-as-pie jailbreaking app, greenpois0n, announcing in the apps' Read Me files that "Verizon iPhone 4 is now supported!"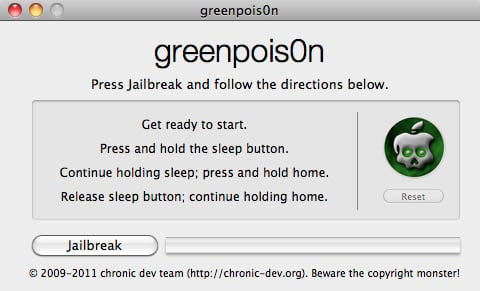 If it had been this easy to break out of Stalag 17, Billy Wilder's flick might never have been made
Although the Requirements section of the Read Me files say "the device should run iOS 4.2.1," the announcement of Verizon iPhone 4 support indicates that its operating system, iOS 4.2.6, is also jailbreakable using these latest versions of greenpois0n.
Should you have any trouble with applying the jailbreak, the good folks in the jailbreakqa.com forums are ready to provide unofficial solace and support.
You can download greenpois0n 1.0 RC5.4 for the Mac (Mac OS X 10.5 or above) and greenpois0n 1.0 RC5 for Windows (XP or above) from www.greenpois0n.com/. A button for a Linux version appears on that page, but clicking it merely provides an error message: "The requested URL /dl/NOTREADY was not found on this server." Verizon iPhone 4-using Linux fanbois will have to wait, apparently – that is, if there are any. ®