An Alabama sex shop owner has decided to do her bit for peace and luuurv this Valentine's Day, and is offering customers the chance to trade "Guns for Toys".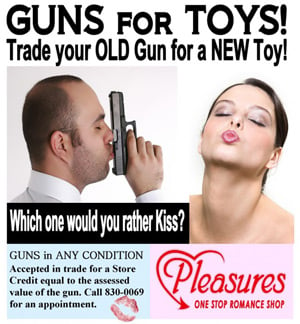 Sherri Williams, owneratrix of Pleasures, in Huntsville, hopes to take 300 firearms off the street before the offer wraps on 15 February. Customers are invited to roll up to the store between 11am and 7pm and flash their pieces to gun dealer David Smith, who'll assess the condition and value.
In return for their unwanted firearm, punters will walk off with something which can deliver an equally mighty bang, but with a greatly reduced risk of death.
According to local news outfit WAFF, Williams said "all guns that were used in a crime will be handed over to authorities while all others will be placed in an auction for sale on the store's website".
Part of the proceeds of this sale will benefit The Alabama Crime Victims' Compensation Commission, although it could be argued that reselling the guns is possibly not the best way to support the ACVCC's work.
In the end, though, it's doubtful flogging a few shooters online will have much effect on gun ownership levels in Alabama. It is considerably easier in the Yellowhammer State to get your hands on a gun than to bag a sex toy, since the local anti-obscenity law bans the sale of the latter unless it's for "medical or educational purposes".
Back in 2009, the Alabama Supreme Court rejected an appeal by the Love Stuff chain of shops claiming the law was "unconstitutional" and "unconstitutionally vague".
Owner Ross Winner explained that he was allowed to sell sex toys, but the devices had to be kept in "a back room" and staff were obliged to "ID everyone who enters and refuse sale to anyone who doesn't fit the medical or educational criteria".
Ross claimed the purchase of a sex toy is a private matter, and the government "does not have the right to have input" on what goes on the intimacy of a citizen's home.
Judges kicked Ross's case into touch, decreeing that "public morality can still serve as a legitimate rational basis for regulating commercial activity, which is not a private activity". ®