HP reveals inaugural Palm webOS tablet
Today, the TouchPad. Tomorrow, webOS desktops...
HP has unveiled a trio of new webOS devices, including a pint-sized smartphone known as the Veer, a beefier business phone dubbed the Pre3, and, yes, the first Palm tablet: the HP TouchPad.
The devices are designed to work in concert, and to dovetail with myriad "cloud-based" services, consolidating your calendar appointments, contacts, photos, email, SMS, and other messages. "There is a word for what we have achieved ... and that's synergy," Jon Rubenstein, the former Palm head who's now HP senior vice president and general manager, said during a press event in San Francisco. "HP is bringing synergy to an incredible range of new products."
The company has even vowed to bring webOS to printers and PCs.
Weighing little more than a pound and a half and measuring 13mm thick, the HP TouchPad includes an iPad-esque 9.7-inch capacitive multitouch display, 1.3-megapixel front-facing webcam, 1.2GHz ARM-based Qualcomm dual-core processor, 802.11b/g/n Wi-Fi, and stereo speakers. HP will offer one version of the tablet with 16GB of storage and one with 32GB.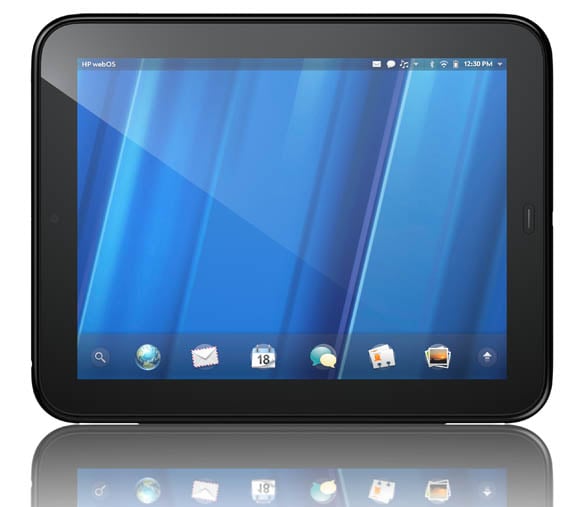 Let the tablet battles begin: HP's TouchPad challenges Apple's iPad and all those Android fondleslabs
Yes, the device does video calling, and it's specifically designed for multitasking. It ships with a full version of QuickOffice, which lets you view and edit Microsoft Word and Excel documents, but it's also designed to work with Google's online word processor and spreadsheet app, Google Docs. In un-iPad-like fashion, the device plays Flash as well as HTML web video, and there's hardware acceleration for the built-in web browser.
HP is also including an Amazon Kindle app with the device, announced today by Amazon.
You can adjust the size of the keys on the device's software keyboard, but you also have the option of using an external hardware keyboard. You can dock and charge the device on an optional HP Touchstone wireless charging contraption, which works even when the TouchPad is in its case.
The Touchstone has been upgraded to automatically set docked devices to an "exhibition mode", displaying photos or serving up other applications suitable for use when the device is docked. HP's Touchstone technology also lets you share URLs between webOS devices. To share a URL, you simply touch a phone to the TouchPad, as HP demonstrated during Wednesday's press event.
Via Bluetooth, you can also share SMS messages between phone and tablet and send voice call alerts from phone to tablet. In the future, an HP spokesman told us, the company plans to offer other sharing between devices, either through Bluetooth or Touchstone.
HP said that a Wi-Fi only version of the tablet will be available "this summer," with 3G and 4G versions following. A webOS tablet SDK will be made available to developers on Wednesday evening.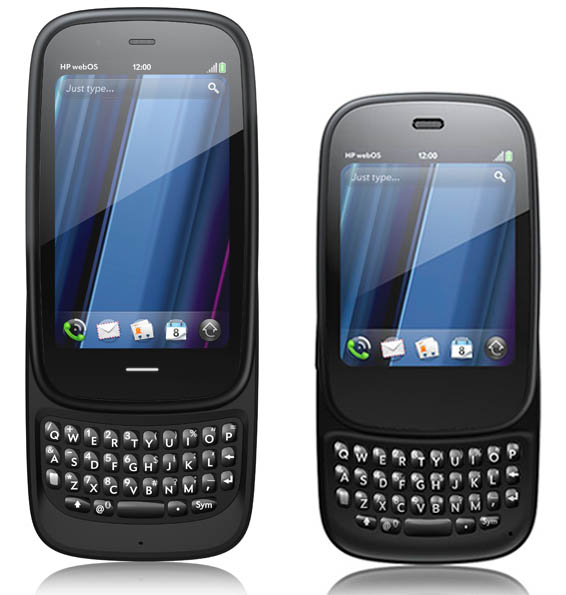 HP's new Pre3 (left) and its little brother, the Veer
HP's Veer smartphone is no wider or longer than a credit card. It offers a 2.6-inch 320x400 display, a five-megapixel camera, 802.11 b/g, 8GB of stroage, and an 800MHz Snapdragon processor. There's also a slide-out keyboard, and the device can serve as a mobile hotspot. The device will be available "this spring."
Meanwhile, the Pre3 offers a 3.6-inch 480x800 display, a five-megapixel camera, 8GB or 16GB of storage, a 1.44GHz Snapdragon processor, and full qwerty slide-out keyboard. Like the HP Touchpad, the Pre3 will be available this summer.
HP acquired Palm in April of last year for roughly $1.2bn. At the time, Todd Bradley, executive vice president in HP's personal systems group, said the company would use Palm's engineers, webOS operating system, and other intellectual property to build all sorts of mobile devices for both consumers and businesses. This, Bradley said, included tablets.
Before the HP acquisition, webOS was used solely on smartphones: the Palm Pre and the Palm Pixi handsets. The critics love them. But sales have been, well, limited. When HP scooped up the OS, Bradley said the platform would thrive with a bigger operation behind it. Bradley once ran an independent Palm. He moved to HP before the acquisition.
On Wednesday, Bradley also said that HP will soon take webOS to other devices, including printers and personal computers. "I'm excited to announced that we're bringing webOS to the HP devices with the broadest reach," he said, referring to PCs – webOS PCs will arrive "later this year," he said.®