Review The Android tablets that have appeared lately seem to suffer an identity crisis, often unable to decide whether they're simply big smartphones or genuine tablet-computing devices. Creative Labs has taken a different approach with its new Ziio, producing an 'entertainment tablet' that is essentially a larger version of its existing Zen portable media player.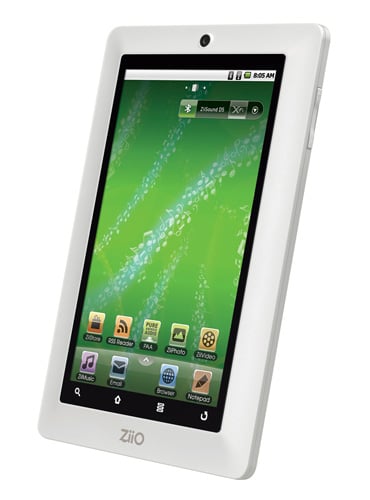 Media friendly: Creative's Ziio
The model that's currently on sale has a 7in screen, although there is a 10in model in the works as well. I tested the 8GB model, which comes in at £200, but there's a 16GB model also available for just £20 extra. The Ziio also has a slot for a MicroSD card, so you can easily add more storage if required.
It's powered by Creative's own ZiiLabs ZMS-08 processor running at 1GHz that's based on the ARM Cortex A8 – more details here. The Ziio currently runs Android 2.1, although Creative told us that it's planning an update to 2.2 "in the very near future".
The resistive touchscreen has a relatively modest 800 x 480 resolution but it's perfectly adequate for browsing the web and watching video. There's also a mini HDMI port on the top edge, so you've got the option of connecting to an HD TV if you want, although no cable is supplied.

Interfacing options offer big screen playback
Also along the top is a headphone socket, built-in microphone and volume control. There's a front-facing camera with VGA resolution just above the main screen, while the power connector is on the base. There's also a USB port for file-transfer, and the Ziio acts as a standard USB storage device when connected to a Mac or PC, so it's easy to copy files straight onto it. And, for networking, you've got 802.11g Wi-Fi and Bluetooth – but no 3G mobile broadband.
Similar topics