This article is more than 1 year old
TERRORISTS IN SUBMARINES menace the Free World!
Pale, smelly peril of underwater cocaine 'Love Boat'
But terrorists have plainly never seen North Sea Hijack
But it's worth remembering here that the Western navies, and since 9/11 large parts of the commercial maritime industry, have lived in a state of mild institutional panic about frogmen carrying out limpet mine attacks ever since SCUBA diving gear became widely available after World War II. Millions of man-hours and billions of dollars have been spent over the decades on measures against this plausible but in fact almost totally nonexistent threat.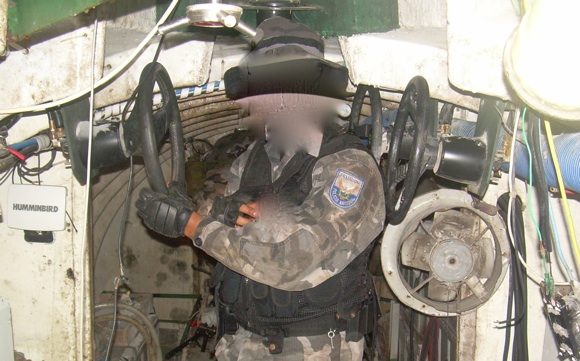 'It wasn't the Love Boat' - no shit, Sherlock
Ever since the 1970s oil boom in the North Sea, the British armed forces have also maintained a strong Maritime Counter Terrorist (MCT) organisation led by the Special Boat Service - which has stood almost completely idle apart from the regular round of training and exercises. The experience of the US has been much the same: generations of Navy SEALs and Force Recon marines have spent large parts of their careers doing countless VBSS and GOPLAT4 exercises at colossal expense, most of them without facing so much as a measly Somalian pirate or Iraqi oil-smuggler - let alone an actual terrorist gunman.
So we can see that just because terrorists could theoretically do a thing (in particular a maritime thing, as they seem to be even more sea-blind than most people) there's usually no real reason to think that they will do it. Especially if it is expensive and fairly technically difficult, as we see here. The real-world maritime skill limit for terrorists seems to be reached with the use of dead simple explosives-packed suicide speedboats, as in the cases of MV Limburg and USS Cole.
We should remember too that the big-league Western navies have also maintained massive anti-submarine forces throughout the Cold War, powerful enough perhaps to stand off the menace of full-sized, extremely sophisticated Soviet nuclear-powered submarines. Despite the almost complete disappearance of the Soviet sub fleet, most of these antisubmarine forces still exist and will for some time: the Royal Navy was still getting its latest Type 23 frigates and Merlin sonar/torpedo helicopters into service well after the turn of the century.
There are sure to be plenty of people in the US and other national-security communities furiously working on ways to counter the "new" mini-sub terrorist menace, as the Chronicle and its sources tell us: but in fact any rational assessment would suggest that far too many resources are already devoted to anti-submarine protection - and probably, to battling maritime terrorism in general. ®
Bootnotes
1A knot is a unit of speed, not distance. A vessel going at one knot is travelling one nautical mile per hour - roughly equal to one-and-one-quarter ordinary miles per hour.
2Jaubert subsequently fell out with his backers in Dubai and was forced to flee the Emirates authorities, who now claim that he embezzled money from the venture. Jaubert now lives in Florida: he says that the Dubai government, backing Exomos, pulled the plug on him against the terms of their agreement when the bottom fell out of the city-state's ramshackle finances in 2006/07 and that he has been made a scapegoat for the business' failure.
3As the crew burned up oxygen this would still need to be replaced one way or another. The easiest means of doing this would be by injecting a steady flow of air, but this would still mean emitting bubbles in order to get rid of the inevitable nitrogen surplus. Compressed oxygen could alternatively be used, though this would involve additional expense and danger.
Well-equipped narco-submariners who really knew about mixture gas diving might choose to keep the sub filled with a richer nitrox mix to minimise their decompression burden, or even to fill it mostly with pricey helium - which would allow the craft to descend much deeper, though this would not really be very relevant to the task at hand. A simple way to minimise costs and bubble trail while maximising safety would be to simply wear mixture rebreather apparatus while submerged.
4Vessel Boarding Search/Seizure and Gas or Oil PLATform operations.
Lewis Page is a former Royal Navy diving officer: as such he was exhaustively trained in mixture gas diving, covert attack swimming and underwater demolitions/explosive ordnance disposal. Certain supporting functions in the UK maritime counter-terrorist and special operations formations are carried out by naval divers, as with their US equivalents.