The Wireless Application Community won't be properly launched until Monday lunchtime, but Filipino operator SMART couldn't wait and has jumped the gun with the first WAC-compatible handset.
The Netphone looks suspiciously similar to ZTE's Android-based Blade handset, sold as the San Francisco by Orange in the UK, but SMART has chucked on some device management from Red Bend and a WAC layer to enable the installation (and, more importantly, purchase of) AJAX widgets posing as native applications.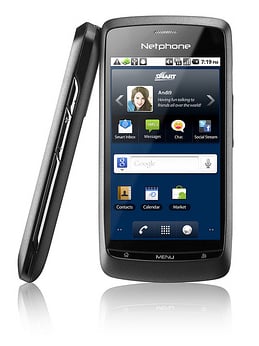 It's weird, it's WACy, but is it the first of many?
The Wireless Application Community is an industry body set up to take on Apple as an application supplier, and counts all the important players within its membership – today it has added IBM, HP, Adobe, Panasonic and half a dozen others to that roster. WAC applications are created using web technologies (AJAX), which are submitted to the WAC warehouse for clearing. Once cleared they become available to member-run stores, which can stock them if they wish.
That process will be commercially launched on Monday, so SMART is jumping ahead slightly. It's good to know that Android will be a supported platform for WAC applications, though without Android the WAC would almost certainly be doomed to stillbirth, and even with really good Android support its life expectancy is open to question. ®
Similar topics