YouView ship date slips to 2012: official
If you've been holding your breath, you can exhale now ...
---
YouView has confirmed that its set-top box won't now ship until early 2012. A roadmap agreed upon last year, after the start-up had received approval from the BBC Trust, envisaged boxes appearing on the market this spring. A second iteration was scheduled for 2012 ready for the Olympics - the traditional consumer upgrade season for home cinema. (Or "TV", as we used to call it).
"Our priority has been to build the sucker and get it shipped," former technical supremo Anthony Rose, arguably the "father of YouView", told a conference last year. But YouView dispensed with Rose by mutual consent last year. External consultants Accenture now guide the development process, sources say.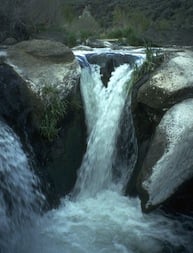 A waterfall
The YouView box combines a free-to-air digital receiver with an internet connection, allowing on-demand viewing. It'll also run web widgets and feature the inevitable App Store. Joint owners of the venture, which began life as "Project Canvas" at the BBC, are the major terrestrial broadcasters BT and Arqiva.
"Our focus has always been to deliver a product to consumers that is right, but not rushed," YouView CEO Richard Halton said in a statement issued this morning. "Creating a truly open TV platform that will bring consumers increased choice has required significant technological innovation. Our timings for the launch reflect the scale and complexity of this project."
Trials are expected this year, the company added, and more specifications will be published shortly. ®
Similar topics
Broader topics