This article is more than 1 year old
Roberts Stream 63i
The only all-in-one music combo you'll ever need?
Review British radio stalwart Roberts has been releasing a steady stream of DAB and FM models and is increasingly combining its options into various categories of music system. The Stream 63i is the latest do-it-all model offering CD player, iPod dock, FM and DAB radio, Internet radio and audio streaming using your home network too.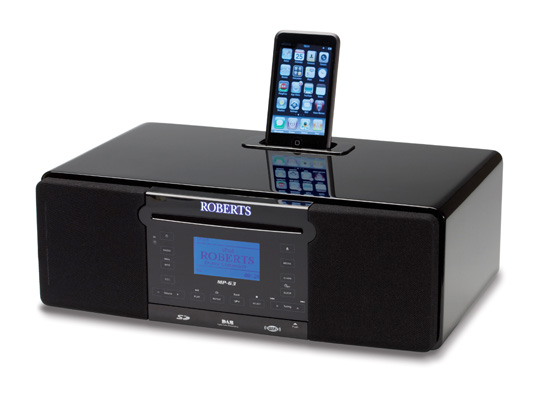 Versatile performer: Roberts' Stream 63i
The Roberts Stream 63i is a slick-looking device encased in piano black MDF – only one colour, but then it goes with just about anything. It measures a reasonably compact 358 x 120 x 260mm and weighs a reassuringly solid 5.2kg. Indeed, it's big and heavy enough to promise some decent acoustics, but still small enough to fit in the bedroom, kitchen or wherever takes your fancy.
The touch-sensitive controls are arranged around a good-sized, six-line LCD display with a drop-down panel at the bottom masking SD memory card and USB slots. Around the back are 3.5mm aux in, line out and headphone jacks, as well as an optical digital output and Ethernet connection. There are also separate aerials for FM/DAB and Wi-Fi.
You certainly get a serious bit of bang for your 350 bucks – yes, I know, pounds sterling, really. After all, besides its functions for CD/radio/dock/streaming combinations, and playback from USB sticks and SD memory cards, you can also record directly from the radio onto your chosen storage option. It's nice and simple too, just press 'record' once to start, and again to stop.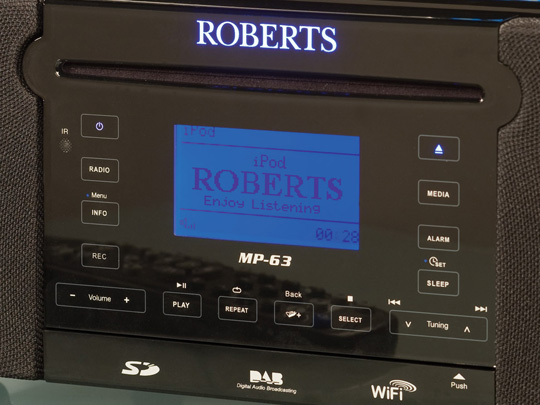 A full-function remote is provided if operation with touch controls doesn't appeal
There's a six-preset equaliser on board, as well as separate bass and treble controls which you can programme to a set level on the equaliser. There's an alarm clock and sleep timer too, and you can also adjust the brightness of the screen and the sensitivity level of the touch controls. A nice touch, or so it would seem.