This article is more than 1 year old
Roberts Stream 63i
The only all-in-one music combo you'll ever need?
Slip a disc
Pop a CD into the slot-loading player at the front and it will automatically stop whatever it's doing and switch to the disc – a nicely intuitive touch. It has UPnP certification and connecting to my PC via my Wi-Fi home network was straightforward enough. The large screen means the set-up menu can display all of the alphabet at once so it's easy to input your WEP key with minimal scrolling.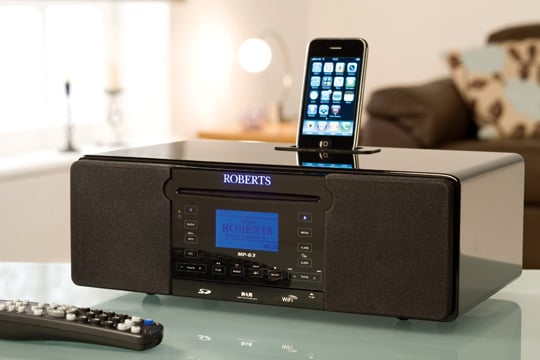 Yes, it's an iPod dock too, but a whole lot more besides
With my music folder made available for sharing via Windows Media Player, the Stream 63i was able to find my network, then identify the music source and stream the tunes directly. It's also compatible with Macs and computers running Linux. The latest Windows Media Player 12 can serve MP3, AAC, WMA and WAV files but you'll need to instal a different UPnP server, such as Twonky, to play FLAC files.
Connecting to my Buffalo LinkStation Mini Nas server was even easier – it scanned, it found, it played – and played and played without dropping the signal. Last.fm's streaming service is included in the spec, but you'll need a paid-for subscription to be able to use it. It will suggest new tracks based on your radio listening and usefully it's backed up by a couple of dedicated buttons on the remote for repeat and random.
In terms of Wi-Fi reception range, it just about made it from one end of my house to the other (about 12 metres, with three brick walls in-between) which isn't always the case with some Wi-Fi devices. At the extremes, however, it took a noticeably longer time to hook on to the network than when it was in the same room as my router.
The speakers are a pair of full-range, ported, 2.5in drivers offering six watts RMS which do a pretty decent job of throwing out the sound with a fair degree of oomph, helped by the solidity of the cabinet, which Roberts says has been 'acoustically tuned'.