First reports on XM-25 Judge Dredd smartgun in A'Stan
US troops dub futuristic computer weapon 'the Punisher'
First reports are emerging on the performance of the futuristic, Judge Dredd style XM-25 computer smartgun, which went into combat with frontline US troops in Afghanistan in December. The hi-tech rifle - almost a portable artillery piece - is said to have been dubbed "the Punisher" by soldiers who have used it.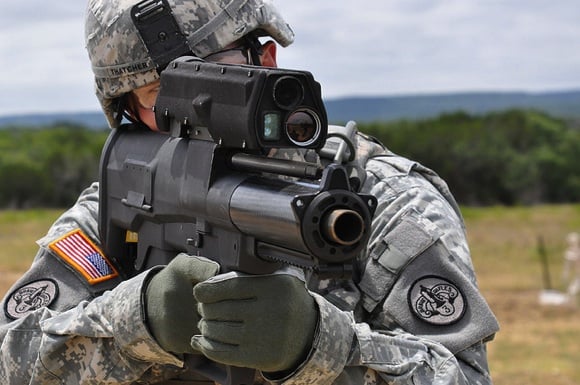 What 'the kids' all want for Xmas.
The US Army news service reports that the existing five custom-made prototype XM-25 weapons, which have long been trialled and tested in the States, arrived in Afghanistan in November and were first used in combat on 3 December. Since then, as of the army report, some 55 explosive smartshells have been fired in combat and hundreds more in practice.
"We silenced two machine-gun positions – two PKM positions," said Major Christopher Conley, describing some of the firefights in which the XM-25 has been used. "We destroyed four ambush locations, where the survivors fled."
The use of PK series machine guns to attack NATO troops from long range is a common Taliban tactic. Often the PK, firing full-power 7.62x54Rmm-Soviet ammunition, can outrange the Western soldiers' weapons, which mostly shoot intermediate-power 5.56mm-NATO rounds (for instance the American M4 carbine and British SA80 weapons).
One response to this is to issue more weapons firing full-power 7.62mm-NATO cartridges, such as the recently introduced British L129A1 "Sharpshooter rifle", or American use of designated marksmen armed with M-14s.
Another is to deploy the XM-25, which offers accurate fire to 500m and area effect to 700m. The gun's accurate laser rangefinder and computing sight, combined with precision fuses in the 25mm exploding shells it fires, means that a soldier can ping an enemy's protection – eg a boulder – select an extra metre or two of range and shoot slightly high. The shell will then explode directly over the target's head, peppering him with shrapnel despite his frontal hard cover. Such airburst capability had previously been the preserve of artillery.
Thus far the new weapon has been used in nine firefights. It is not yet definitely credited with killing any Taliban combatants, but army weapons staff assessing its performance would argue that this is beside the point, quite apart from the fact that the long-range fights in which it has been used don't normally allow US troops to assess how many enemy have been killed or injured.
"What our soldiers have told us is, when we do fire this weapon, it does have a high probability of effect," Conley said. "The enemy stops firing. They flee. They drag off their casualties. Essentially, a soldier is very happy when the enemy stops firing at him ... our soldiers no longer have to maneuver from their cover position to gain an advantageous firing spot.
"The XM-25 brought the difference to whether they [the Taleban] would stay there 15 to 20 minutes shooting, taking pot shots or the actual fight ended after using the XM-25," said Sergeant 1st Class Carlos Smith. "That was due to the defilade capabilities of the XM25 to shoot beyond targets and behind targets."
"The kids are calling it 'the Punisher,'" added Brigadier General Peter Fuller, boss of the US army's Program Executive Office - Soldier.
The XM-25's formal assessment period ended in January and normally it would have been withdrawn from the field at that stage, pending a further decision. However, it seems that troops in the field have asked to keep the new weapon for a while longer and it remains in the field.
The enthusiasts at PEO Soldier would like funding to build more XM-25s and ammunition for them, but it isn't clear right now that this will ever be forthcoming. Also there are some technical refinements to be made – the field troops don't like the rechargeable battery in the weapon's computing sight, for instance. Expense is also an issue, as each weapon and round of ammo must be custom-made by hand at present – there is no assembly line.
Even so, as one of relatively few technical initiatives designed to help the foot soldiers who actually do most of the fighting and almost all the dying in today's wars – as opposed to the enormous amounts of money funnelled into making the jobs of fighter pilots, submarine captains etc somewhat easier – the relatively small amounts of cash required to move the XM-25 project forward would seem a reasonable investment by the US forces, even if it doesn't pan out. ®