Detroit citizens demand RoboCop statue
I'll buy that for a dollar $50,000
---
Fans of Paul Verhoeven's 1987 classic RoboCop have launched an online campaign to erect a statue in honour of their crimebusting hero.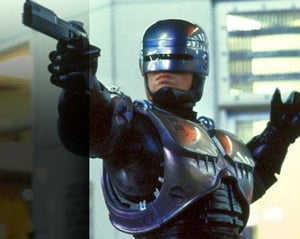 Via the inevitable Facebook presence, and a tin-rattling site, Brandon Walley and chums hope to raise the $50,000 necessary to make officer Murphy a permanent fixture on Detroit's streets.
The initiative has the tentative support of mayor Dave Bing, who "would consider using public land for a donated RoboCop statue", Reuters reports.
His spokeswoman Karen Dumas said: "Should the opportunity present itself to receive a donation of this or any other works of public art, we will consider acceptance and appropriate placement."
So far so good, but some locals aren't too impressed with the idea of celebrating Paul Verhoeven's vision of a dystopian, crime-ravaged, hellhole Detroit when plans to laud Motown with statues of Michael Jackson and Diana Ross have so far come to nothing.
Walley defended the idea: "I think the important thing in the movie is RoboCop himself and the values he stood for. I think a lot of people who are saying that movie just puts Detroit in a negative light – well, there's a lot more in there that they might be missing."
As of this morning, the RoboCop fighting fund stands at a tad over $6k. Those wishing to contribute have 43 days to comply before the deadline on 26 March. ®