D-Link Boxee Box DSM-380 media streamer
Content provider?
---
Movie goers?
UK users will find a selection of just under 1300 movies available, many of which appear to come from IndieMoviesOnline.com, and I had no problem watching An American Werewolf in London – though even with a 17Mbps broadband speed, the picture quality was distinctly VHS-like, and selecting some films, like Channel 4's The Government Inspector sourced them from 4oD via YouTube, for a distinctly pixellated appearance at times.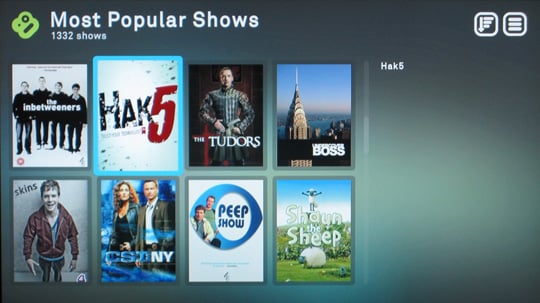 Boxee's on-line showcase
There are also apps that provide access to other functionality, like weather forecasts, or YouView's big screen interface. It's largely simple and straightforward to use, but there's not really a killer source of content for the UK, like LoveFilm.
You can share recommendations for content with friends who also use Boxee, and add stuff to the 'Watch Later' list using your PC, which is a useful touch.
While some of the content, like that from IndieFilms, plays automatically in full screen, some other material shows up the limitations of the Boxee system, which has some way to go before being really friendly for novices.
For instance, the apps section of the system provides an iPlayer application, which gives the same big screen interface as systems like Freesat. But once you've selected a programme, you get taken to the web page, rather than having the stream start automatically. You then have to use the mouse pointer – from the navpad on the remote – to start the playback.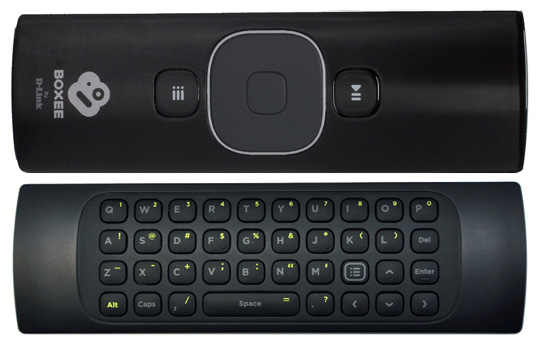 The remote offers two distinct levels of sophistication
You'll also see the same happen on other sources – browsing shows and finding an episode of CSI:NY, which was supposed to be available from Channel 5, launched its web site, complete with a messy error message.