Advanced Micro Devices is firing off the first salvo in the ongoing x64 war between Intel and itself, revving up its high-end Opteron 6100 processors to try to get a bit more market share.
The crank on the eight-core and twelve-core "Magny-Cours" processors, which debuted last March, is not huge, so don't get too excited. AMD and its former foundry and now third party wafer baker, GlobalFoundries, have pushed the 45 nanometer processes used to make the Opteron 6100s about as far as they can while staying within the 65, 80, and 105 watt thermal bands that server makers engineer their machines to.
As it is, server makers were being asked to do a lot by AMD when the chip maker double-stuffed the G34 sockets with two six-core chips with the Opteron 6100s. (The Magny-Cours is not a single piece of silicon, but two tweaked "Istanbul" chips sitting side-by-side in the same package.) Not only was there a new and fatter socket to contend with in the belly of the Great Recession in late 2008 and early 2009, when AMD was laying out its Opteron 6100 plans.
The new chips burned more juice and threw off more heat than their Istanbul predecessors, which came in 55 watt, low-voltage versions (the Highly Efficient or HE parts), 75 watt standard parts, and 95 watt revved up Special Edition, or SE parts. Coping with the extra 20 or 40 watts is not trivial in a 1U or 2U server.
The Magny-Cours launch also required server makers to re-engineer their server platforms and adopt AMD's first server chipset, since Nvidia and Broadcom stopped making new Opteron chipsets with this generation. When you add it all up, it is no wonder that Hewlett-Packard and Dell were the only big players that really backed the Opteron 6100s, that IBM gave it tepid support, and Oracle ditched Opterons entirely from their product line. (I know Acer made some noise in Asia and Europe, but hasn't even entered the U.S. market with its Opteron-based systems yet.)
It was a bad time to have server makers and buyers alike cope with a new architecture, and it is no surprise that Intel did well because it did its major transition a year earlier, in March 2009, with the four-core "Nehalem-EP" Xeon 5500s, at the bottom of the recession. Server makers had adopted the new LGA 1366 sockets and the QuickPath Interconnect back in 2008 when they were still feeling rich, and when Intel launched the six-core "Nehalem-EP" Xeon 5600s in March 2010, these new chips had the same thermals and plugged into the same sockets as the Xeon 5500s. It only required them to recertify their configurations, which is the right amount of work for a lazy server maker.
Here in 2011, Intel has a socket shift it is making server makers do with its "Sandy Bridge" Xeons, and they are probably grousing about it a bit, but with the server racket and the major economies of the world on the mend, this transition is not as big of a deal as the one they were facing with the Opteron 6100s and 4100s last year. That said, AMD will have an easier time because the future "Valencia" and "Interlagos" Opterons, based on the "Bulldozer" core pair and due later this year, will snap into any existing C32 or G34 socket, respectively. (See here for details on the Bulldozer chips and there for AMD's Opteron roadmaps through 2012.)
In the meantime, AMD needs to hit Intel with something, and the only weapon it has is to sift through the Opteron 6100 bins and find machines that can run at higher clock speeds reliably.
After sifting through those bins, AMD came up with five new Opteron 6100 processors, which launch today. In the table below, they are shown in red italics: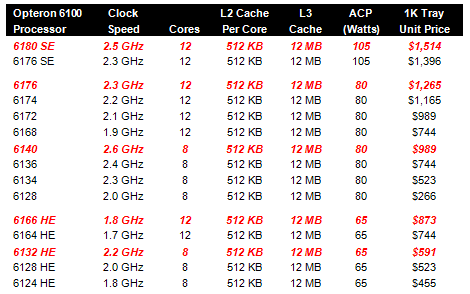 The AMD Opteron 6100 server chip lineup
The Opteron 6100s are used in two-socket and four-socket servers, and given that each socket has two whole processors in it, these are really quasi four-socket and eight-socket machines as far as systems software is concerned. (AMD and its partners could do eight-socket machines, comprised of four two-socket boards or two four-socket boards, from the early days of the Opterons, but there were not enough HyperTransport links in the chip sockets to make all sockets able to link to all other sockets, so there was a lot more hopping around in the system. This had a predictable and bad effect on NUMA scaling for these early Opterons. But with the latest Opterons, their HT3 links, and more of them, the NUMA scaling is vastly improved.)
In the table above, each chip's clock speed and core count is shown. All of the Opteron 6100s have 512 KB of L2 cache per core and 6 MB of L3 cache per core, for a total of 12 MB for a Magny-Cours package. The Average CPU Power (ACP) thermal rating is not equivalent to Intel's Thermal Design Point (TDP) ratings. Pricing show is the per-unit price if you buy a 1,000-unit tray of chips from AMD.