MWC 2011 Vodafone has refreshed the range of handsets it puts out under its own name, offering three options for the shallow-pocketed mobile user.
The Vodafone 252 is a cheap-as-chips handset with minimal spec, boosted by the presence of M-PESA - a system for making payments with a phone. That system is only active in parts of Africa, the Middle East and Fiji, although India will join that list in the near future.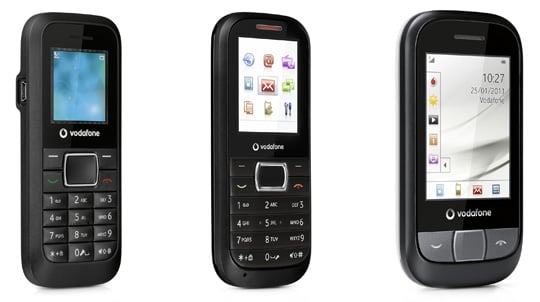 Vodafone 252, 351 and 455
The 351 is the company's most affordable mobile internet phone. It comes with Opera Mini, an FM radio, a 0.3Mp camera and MicroSD expansion.
The Vodafone 455 is apparently the most affordable touchscreen on the market. It also runs Opera and comes with a 2.4in screen, 1.3Mp camera, FM radio and music player.
World's cheapest touchscreen phone? Perhaps, but there's no word on prices or availability as yet. ®