It would be both right and wrong to describe the new BlackBerry Operating System as just eye-candy on the existing java based system.
Correct in that what it does is make the OS look very much better. Incorrect in that in making it look better it also works better and is easier to use.
The most significant change is the addition of a decent browser - the previous browser was a bugbear of both RIM and users. RIM bought the company Torch for its webkit based Iris browser and then named the device after them. There is pinch to zoom and tabbed browsing. Not only that but the pages in the unviewed tabs are active, not simple screen shots as in Safari.
The iPhones' browser is no longer a reason for buying an iPhone over a BlackBerry. This will stop BlackBerry users defecting and maybe lead some who've used a BlackBerry before to return.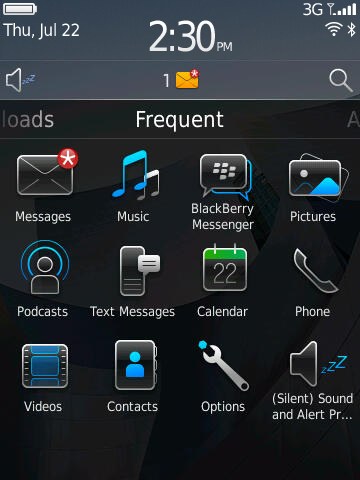 Not to belittle the whizzy sliding stuff and customisable home screen, but it is what goes on behind that provides great foundations.
Since the Nokia communicator and the first Windows Mobile phones there has been a rift between those devices which are a computer with a modem, and those that are a phone with computing functions. The BlackBerry sits between the two. It's a messaging device which also does computing and voice.
Those messages provide the foundation for what RIM calls "Super Apps", that is applications that are always connected. BlackBerry users are used to the flashing LED, which says that there is some new information, and the red star notification on icons to show what's been updated.
This can just as easily be Sky Sports tracking goals as a Bloomberg stock-market update. The speed and reliability of BlackBerry push makes it ideal for people who always want to be up to date. Ironically that's much more the older teens than the grey men in grey suits who form the traditional BlackBerry target market.
An iPhone, even with iOS4, isn't there because it just doesn't have the APIs. While Apple may say "there's an app for that", very often there isn't. You can't for instance record a phone call on an iPhone, or read a text message directly into an application.
While the excellent SmrtGuard will let you access your lost BlackBerry to get it to dial you back so that you can hear conversations where you've left it, or make it ping loudly, or track the device by GPS, the Apple version does none of that because it doesn't have the APIs.
So consumers know they like their BlackBerry, but often can't put a finger on why. IT people might be able to point to the significantly lower bandwidth of the messaging system, or the end to end security that means even some spooks are happy to use it, but that's not cool like having hysteresis as a menu scrolls or album artwork in the music player. You don't hear BlackBerry developers moaning "if only" in quite the same way as iPhone developers do. All users know is that while another phone might be connected, a BlackBerry feels more connected.
With OS 6, RIM has fixed the browser and look and feel, but the future looks to be in good hands too. There will be a migration from the current underpinnings to QNX, the OS in the Playbook, and the acquisition of TAT, The Astonishing Tribe, who are UI designers with gaming roots puts BlackBerry in a very good place for the future.