MWC Doro, the other mobile phone company from Lund, Sweden, has announced a couple of deals at Mobile World Congress that less grown-up companies would tout with words like "ecosystem", and "partnerships".
The mainstream manufacturers have avoided phones for old people, sorry, seniors, and the running has been left to the likes of Doro and Emporia, which are starting to see large-volume sales thanks to deals with Orange and Vodafone.
The problem with, er, seniors, is that they don't spend very much on their mobiles. They're loyal, yes, and low-churn, and very cheap customers to run – but without the sexy ARPU. They won't be browsing, streaming or tweeting. The solution that Doro has to this is to sell them the kind of value-added services they want. Top of the list is healthcare, in the form or diabetes monitoring and pill reminders. Doro has coded support into its phones for MyGlucoHealth, a Bluetooth-enabled blood glucose meter – to upload data from blood glucose tests and improve remote monitoring for healthcare professionals.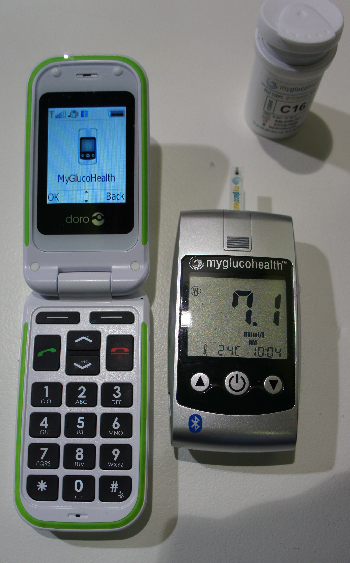 Time for your pills, dear ...
Readings are sent by text message to a secure MyGlucoHealth portal which provides instant feedback to the user, plus practical advice (don't eat that) and resources to help keep them engaged and motivated. The device is intended to help the user proactively manage their diabetes and ultimately to improve their lifestyle. Data from the portal can also be automatically transferred to the individual's doctor.
Getting the elderly to take LOTS of DRUGS
An automatic pill reminder from the company Medixine is the second device-led service from Doro. A server holds details of the details of the customer's medication and sends out text reminders. When the patient has taken the medication, they press a dedicated key on the phone which sends an acknowledgement text. If a message is not received by the server within a selected time period, after the set time for medication, a pre-programmed reminder will be sent. A family member or carer can also receive copies of the alerts. This two-way safety mechanism provides for carers to monitor intake remotely. The data are recorded and presented as easy-to-read reports and can help to improve the compliance of prescription drugs. This is key as many medicines rely on continued use, at specified times, in order to work effectively.
One-third of people aged over 65 who are prescribed medication frequently forget to take their drugs when they are supposed to. Conditions such as dementia exacerbate the situation. The implications of this are huge, not only to the individual's health, but also for the care profession – which will ultimately deal with the consequences from the mismanagement of prescription drugs.
A direct result of the ageing global population is that many more people will be admitted into care institutions and the vast majority of those will require prescription medication. If these individuals are able to better manage their medication they may be able to remain in their own homes for longer and thus help to reduce the financial implication of an aged society.
No operator partners have been announced, and initially the service is aimed at the US where Doro sells through Consumer Cellular on the back of the AARP – a kind of cross between a lobby group, age UK and SAGA. AARP has 33 million members, and used to stand for American Association of Retired Professionals, until they realised that most of their members were not retired so now it's just a bunch of letters. European deals are in the works. ®