This article is more than 1 year old
Man matches machine in Jeopardy! showdown
Wetware draws round one
Man has drawn with machine in round one of the much-hyped showdown between two wetware Jeopardy! champions and IBM's Watson supercomputer.
In the early going, it wasn't looking good for the humans of the world, as IBM's machine ripped through the easy questions and took a hefty lead over Ken Jennings and Brad Rutter in the Jeopardy trivia game show that appears on American television for three nights this week.
Jennings, who once had a 74-game Jeopardy winning streak, is known for being at one with the buzzer, but Watson cleaned his clock before the first commercial break. After 15 minutes, it was Jennings $200, Rutter $1,000, and Watson $5,200.
But as Jeopardy! host Alex Trebek tossed up harder and harder questions – er, answers – Watson suffered from what you might call over-confidence. At one point, when Jennings proposed an incorrect question to a clue, Watson tossed up the same wrong question. The machine can't hear responses from the other contestants.
As Watson made a few more incorrect guesses, Brad Rutter – who has won more dough than anyone else playing Jeopardy – came alive and started racking up money, as you can see from our exclusive play-by-play table: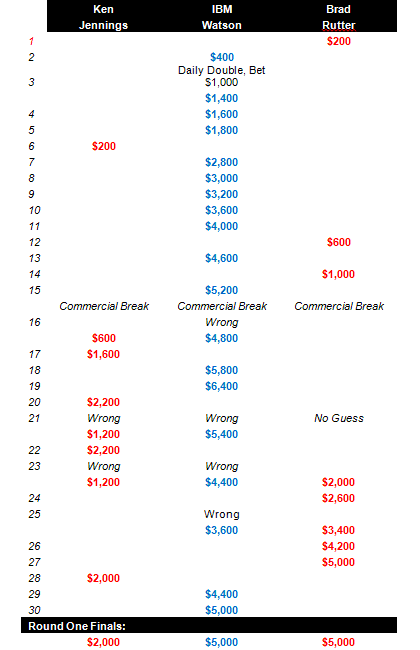 At the end of round one, Jennings had $2,000, Watson had $5,000, and Rutter had drawn even with $5,000.
"Watson is very bright, very fast, and as you saw, he has some weird little moments," Trebek declared at the end of the round.
Tuesday night will see a Double Jeopardy! match up between the humans and the parallel cluster, and Final Jeopardy! arrives on Wednesday. ®