Toshiba today gave a sneak peek of the internet-TV-and-then-some user interface it plans to build into a number of its HDTVs later this year.
Called Toshiba Places, the smooth-looking UI goes beyond the more basic internet TV interfaces we've seen from the likes of Sony, Samsung, Panasonic and LG, to offer not just IPTV services like BBC iPlayer, Lovefilm and YouTube, and Twitter-while-you-watch apps, but also a media centre-style experience.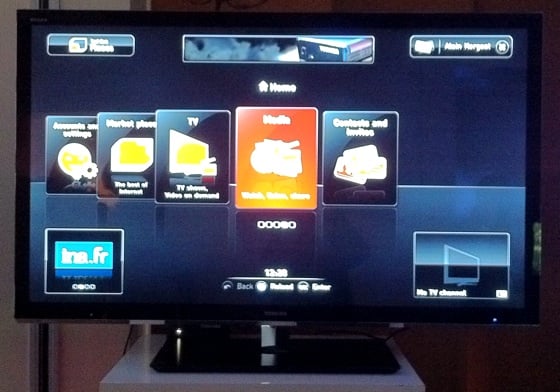 Places will provide access to IPTV - a company executive confirmed BBC iPlayer will be coming to the platform, by presenting the service's 'big screen' web UI on Toshiba's tellies - and other internet services, but will wraps them into a social communications platform that allows you to share content with chums.
Seen a good programme on iPlayer? Tell your friends about it and 'share' the show: they get a pic they can click on to auto-present the content.
Similarly the trailers Toshiba will feed to viewers, plus YouTube clips and the like, even paid-for films can be notionally emailed to friends. They get a message and a picture that, when clicked, auto-loads and plays the content. If it's commercial material, they'll get a preview teaser if they haven't coughed up to view it in its entirety.
On-screen notifications tell you when you have received messages, 'let's be friends' invites and so on, though these can be disabled so they don't interrupt your viewing.
Places integrates multiple users' preferences, contacts, media bookmarks and so forth into Profiles - say, one for each member of the family and another for the family as a whole. Contacts will initially come from among the Places user community, but Toshiba executives suggested that the system will soon be able to read in users' exiting contacts lists - presumably from Facebook, Twitter, email and so on.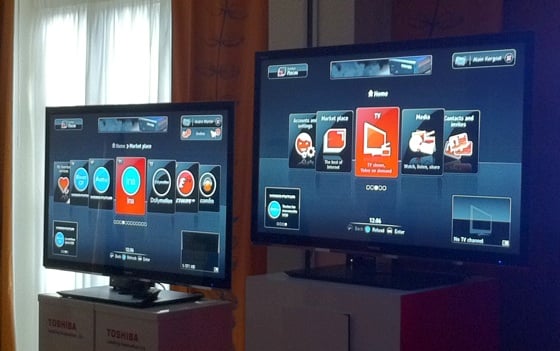 Toshiba clearly hopes we'll soon all be keeping our personal content - photos, home videos and so on - in the cloud, and that we'll want to use a system like Places to access and present that content.
But Places won't simply be a TV UI. Toshiba will also be adding Places available through browsers on tablets and computers. Your profile data is stored in the cloud, so you can continue watching on your PC a streamed movie you were viewing on the big screen.
This multi-device approach separates Places out of from almost all of rival telly makers' IPTV services. And the UI puts Toshiba well ahead of the icon layouts of other UPTV offerings, even those that use downloadable 'apps'. They still feel like a smartphone UI slapped onto a telly.
Places will appear in Toshiba's UL and SL series of HD TVs later this year, and on other devices in the same timeframe. It will put the service into its Blu-ray players, and may also offer a set-top box to allow other tellies to connect to Places, just as it's currently doing in France, where Places is being tested. ®