"Here's an ecosystem we made earlier..."
But it had a "Plan B", and had been considering it for years. In 2002, I'm told, Linus Torvalds convinced Nokia to create a Linux unit. The skunkworks bore fruit in 2005, and Nokia backed it strongly, maintaining an high retail profile for it in the United States.
The 770 Tablet couldn't make cellular phone calls, but it made things easy that were difficult on its Symbian phones, such as web browsing. Nokia believed that given time, open source would give it a thriving third-party application "ecosystem".
According to the now-departed Anssi Vanjoki, Nokia believed it would take five iterations to get its Linux platform right, as a mass market smartphone. In the fourth iteration, with the 900, Nokia added cellular telephony. Vanjoki hinted the fifth would arrive in 2010. It never did.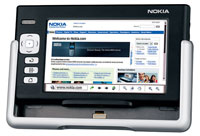 Nokia had also learned the hard way that Symbian was too complex for all but the most dedicated developers. It needed a cool new API. Belatedly, at the start of 2008, it bought one. Trolltech's Qt was widely admired and proven in the marketplace Skype and Google Earth used it. Here was the killer application framework Nokia had already needed.
But Nokia took so long bringing Qt to Symbian and Linux that the job even wasn't really finished three years later, when Elop announced his revolution last Friday. Since Qt already ran on Linux this is quite an achievement. Or quite a non-achievement. Trolltech co-founders Eng and Noord, and CTO Schilling had all long since departed.
So Nokia had a Plan B, and it had a compelling developer story. But it was too late. What killed Nokia's ambitions then was not stupidity, but its bureaucracy.
The bureaucracy ensured Nokia couldn't execute on its ideas, just when it needed to rapidly and with relentless focus. As late as 2009, Nokia's services chief, would-be media mogul, and honorary American Tero Ojanpera was dismissing the competition as "that fruit company". And with leadership as contemptuous of the market as that, anybody who upset the status quo was going to get in trouble. Projects dragged on, lost in political in-fighting.
I find this quite astounding. It wasn't as if Nokia was so wedded to one legacy success (say, a mainframe) that it didn't see the opportunities in its successor (say, a minicomputer). It wanted to build the successor, but its bureaucracy wouldn't allow it to.
Before starting this piece I'd wanted to focus on three mistakes that were important. But there was only really one factor.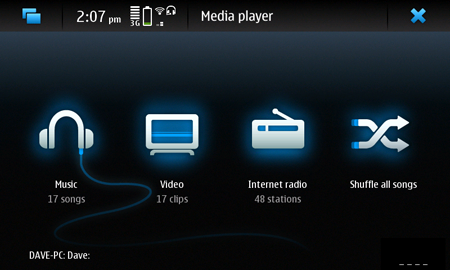 Nokia even had a whizzy new UI for the N900.
Shame about the font, though
The problem Stephen Elop faces now is not a technical one. I'll offer another Unpopular Opinion here: that WP7 is really remarkably good already. If it wasn't called Microsoft Windows Phone 7, and had it instead originated with a plucky startup more people would be able to appreciate it better. The Microsoft imprimatur ensures WP will never be cool - but does at least give it some assurance of backing.
Elop is correct in identifying Android as a mad sharkpool of manufacturers thrashing around in pursuit of a tiny profit, eating each other in the process. If he had to plump for an OS to license, of the two, WP was the better choice.
Elop's problem is that historically you can't really take a large bureaucracy and expect a lean, mean fighting machine to emerge. You usually just get a smaller bureaucracy. ®