Nvidia pledges to pass water on Core 2 Duo this summer
But will it come a codename cropper?
MWC 2011 Two cores is not enough for chip maker Nvidia, so today it demo'd 'Project Kal-El' - aka Tegra 3 - its first quad-core processor for mobile devices.
'Kal-El' can drive a 2560 x 1600 display and run 1440p video smoothly on it. Not much call for that in a phone perhaps, but next year's tablets - imagine an iPad with a pixel density well over 300 pixels per inch, like the iPhone 4's 326ppi screen - will want it.
They won't have to wait: Nvidia reckons it will have this boy in production in August. Customers have samples now, Tegra chief Michael Rayfield said.
To continue with the numerical superlatives, the chip's graphics engine contains a further 12 shader cores and can do stereoscopic 3D.
In toto, 'Kal-El' will deliver five times the performance of today's Tegra 2, Nvidia reckons. The new chip is 12 per cent faster than a 2GHz Intel Core 2 Duo T7200, depending on which benchmark you run, the company added. Tegra 3 is expected to run at 1.5GHz.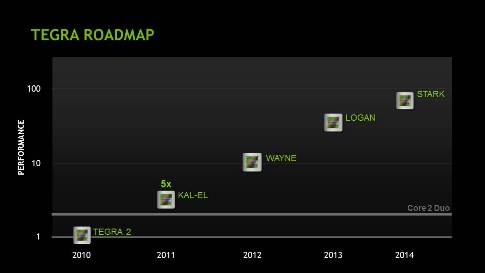 It's the Tegra 3 that appeared in leaked Nvidia roadmaps earlier this year.
The Superman-themed chip will be followed by similarly superhero-monikered offerings: 'Wayne' in 2012, 'Logan' in 2013 and 'Stark' the year after, so we hope lawyers at Marvel and DC don't get wind of this.
After Apple's early 1990s run-in with now-deceased astronomer Carl Sagan over a product codenamed 'Sagan', technology companies have wisely steered clear of handles that might have already been trademarked.
Intel, for example, has a policy of using place names for its pre-release product descriptions to avoid legal entanglements.
Back to the chips, and Rayfield said 'Stark', due it 2014 will deliver 75x the performance of today's Tegra 2 parts. ®