This article is more than 1 year old
Steelseries World of Warcraft mouse and keyboard
Steampunk peripherals – how very 19th century
Key features
Time to haul out my other new acquisition: the Steelseries Shift Cataclysm Keyboard. Like the mouse, this is a fatty keyboard and hardly fitted on my desk when I attached the wrist rest but this doesn't affect the functionality and it worked perfectly in WoW, the custom macros helping out in many a PVP battleground.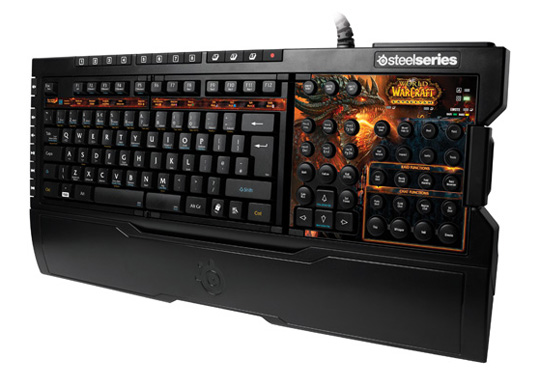 The Cataclysm keyboard features removable keysets for gaming and general use
What makes this keyboard unusual is the ability to install a specialist World of Warcraft keyset. So for everyday tasks you can comfortably type on a standard keyset with a number pad and the swap it over while raiding in WoW for speedy access to dedicated macros.
Changing the keysets takes no time at all and is simple enough for even my addled brain to get to grips with. Simply release the latch, remove keys and replace keys with the preferred keyset. The keyboard recognised which keyset I installed and also loaded my personalised macros instantly. The keyset you have removed doesn't just lie around getting in the way for ferrets to stomp on as it folds into a neat little square easy to tuck away out of woozle reach.
Out of all the dedicated WoW bits and bobs on this keyboard, the feature I like best, because am all about the lazy lazy, are the hotkeys for checking your bags (where's my top hat?) follow, whisper and emote. There are plenty more, including some cool raiding keys, but anything that can actually save me from having to type/dance is worth the hype.
The actual feel of the keys can't compare to the rubber touch of my Razer Marauder and while being good quality weighted keys, they aren't anything special.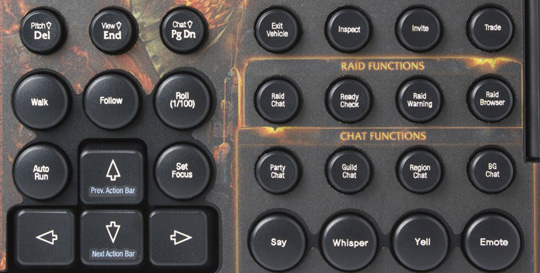 Hotkeys abound
With some of the pros out of the way, I reckon you can probably guess my first massive con of this product: it's big and ugly Even though it displays an impressive decal of Deathwing himself, this keyboard isn't about the pretty pretty. My mates made a point that I was being overly girly and shouldn't moan about something geeks wouldn't even notice. Well I can go along with this to a point, but ergonomically I didn't find it particularly comfy either. Over time, I can imagine this could impact on gameplay and aggravate geeks all round.