This article is more than 1 year old
Steelseries World of Warcraft mouse and keyboard
Steampunk peripherals – how very 19th century
Spaced out
My main technical moan is that the spacebar is split (required to allow the keysets to fit properly) which effectively means you have two spacebars, and to me this is just plain fiddly and stupid. Fiddling around with this stuff will remind you of the disappointing Christmas when you got Duplo instead of Meccano. It's like some kind of dumb Lego land for geeks.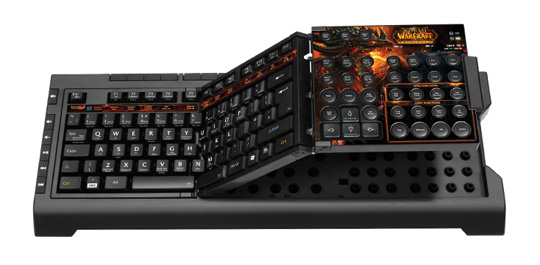 Keysets fold away neatly when not in use
Verdict
I have seen some super flames on forums in regards to the installation of the software for this keyboard and lack of support, however, I didn't run into any problems myself. Moreover, there are some useful features on both the mouse and the keyboard, but the latter certainly is in need of refinement. Still, ardent WoW gamers will certainly appreciate the benefits, as grumbles aside, these Cataclysm peripherals appear to do exactly what they say on the tin. ®
More Gaming Gear Reviews…

Razer
StarCraft II
peripherals
Sony
PlayStation Move
Microsoft
Xbox 360Kinect
Ten Essential…
Gaming Mice

Steelseries World of Warcraft mouse and keyboard
Retrotronic heaven! Polish your monocle rather than brandish your axe. These peripherals are all in working order and look like they belong on the nearest dirigible.
Price:
Mouse £90, keyboard £100 RRP