IBM answer machine makes chumps of trivia chimps
'Robots will keep us as pets'
If you've been watching the first two days of the Jeopardy! game show pitting two of humanity's trivia champs against IBM's Watson question-and-answer machine, you probably had a sinking feeling – mixed with a sense of awe.
All-time champ Ken Jennings put up a good fight, and Brad Rutter stole away a few questions, but the supercomputer took no prisoners in rounds three and four of the tournament. The pace was twice as fast on Wednesday, with less marketing speak on behalf of Big Blue, and they got quickly down to quizness.
Here's how the third round played out: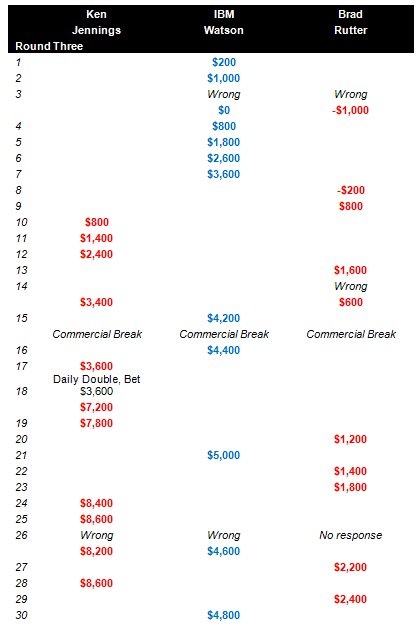 After a slow start, Jennings worked up some momentum and Rutter did his best to keep up. By the end of the round, Jennings had amassed $8,600, Watson only $4,800, and Rutter $2,400.
In round four, it was a slug-fest between Jennings and Watson. But as you can see below, it wasn't enough: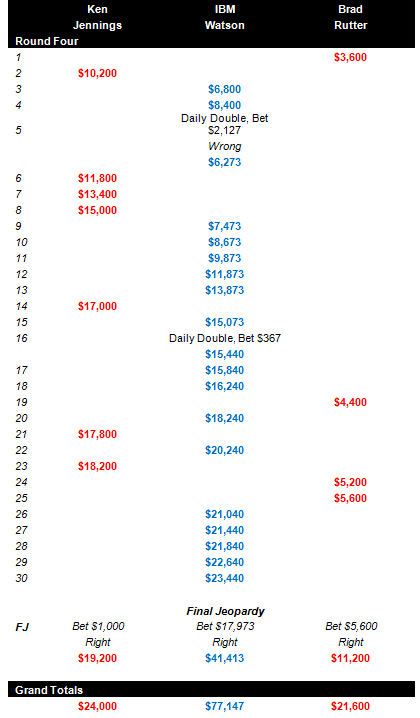 By the end of the fourth round, Jennings had $18,200, Watson had $23,440, and Rutter had $5,600.
The show closed out with the Final Jeopardy! clue: "An Account of the Principalities of Wallachia and Moldovia inspired this author's most famous novel."
Rutter, who was in third place, bet $5,600, everything he had, and wrote "Who is Bram Stoker?" That boosted him to $11,200 for the day and $21,600 for the three-day tourney. Jennings bet a mere $1,000, and his response was "Who is Stoker (I personally welcome our new computer overlords)?" That gave him $19,200 for the day and $24,000 for the week. Watson, ever the perplexing wagerer, bet $17,973 and responded, "Who is Bram Stoker?" That gave him $41,413 for the day and $77,147 for the entire Jeopardy! challenge.
As Oren Etzioni, director of the Turing Center at the University of Washington, put it in a report on National Public Radio on Monday ahead of the tournament: "Does that mean that it's Game Over for humans, that robots will keep us as pets?" Etzioni says no. We say: "Middle managers, get used to the dog food." ®