This article is more than 1 year old
Ten... over-ear headphones
Surround sound
Product Round-up Personal music is an everyday part of most people's lives and at at the end of the chain, it's the gear we use to pump out the audio that impacts most obviously on the listening experience.
If you want to raise your game from the freebies given out with a PMP or just fancy a quality set of headphones for the home, then where to splash our cash is always an issue. In the same sense as eating organic, we usually have to spend more to get the most tasty choice.
With so many manufacturers out there to choose from, let alone headphone styles, this round-up concentrates on a selection of over-ear models that look like a sound investment. Rock on.
AKG Q701

As an advocate for AKG microphones for a number of years, perhaps it's a surprise I'd never tried a pair of the company's headphones. I couldn't have tried a nicer set either, as the Q701s were hugely impressive, however, for the price it would be worrying if they weren't.
Attached to elastic strings, the headband self-adjusts and with soft furry pads, it sits comfortably over the ears. The cable attaches on one side with AKG's latching mini-XLR, gold flash 3-pin connection, so a replacement isn't exactly off-the-shelf, although it does come with a spare cable (one is 3.5mm, the other 1/4in jack at the end).
While the Q701s are available in green as well as black versions, the white pair I tried, made me look like the bastard offspring of Princess Leah and a horny Stormtrooper. As you can imagine, they're somewhat on the large side of things, but do have a lot to pack in, including flat-wire coils and a patented two-layer diaphragm. Tech aside though, what's really important is the sound.
Developed with legendary producer Quincy Jones, I thought it only fitting to begin my test drive with Billie Jean, which absolutely blew my socks off. A few genres later and the 701s tick every box. The output is unbiased, maybe edging on the bassy side of things, but overall one of the more balanced sets I tested. These are predominantly for plumbing into hi-fi amplifiers and ideal for studio referencing. The environment they're used in is crucial - pointless with an MP3 player for example – as having a 62Ω impedance, the highest of those on test, the output is fairly low when driven from these devices.
The only question that remains is, are they worth the high price of £500? I'm not so sure I'd pay that myself, but if you bear in mind some of the proceeds go toward Jones' foundation for making music education an ongoing part of children's lives, it softens the blow, a little.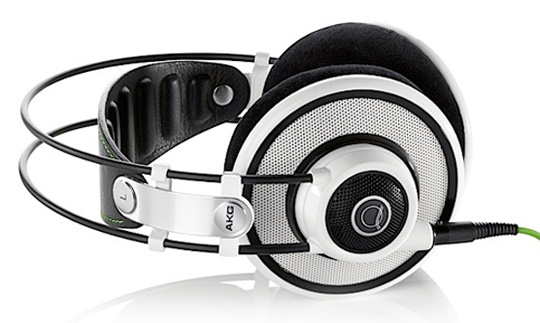 Reg Rating 85%
Price £500
More info AKG
Audio Technica ATH-AD700

As far as over-ear headphones go, the Audio Technica AD700s are unashamedly big. Some might call it a fashion statement, but I found I looked very Mickey Mouse with them on my head.
The self-adjusting clips are somewhat creaky, but help the AD700s rest comfortably over the cranial. They do sit a little loose over the ears though and the padding, which doesn't feel quite right, is made from a dusty felt-like material that gives the impression that it could easily rot with extended use. The fixed cable is a downside too, urgh.
Sonically though, the AD700s are sweet on the ears. The open-cup design creates a sense of space and can be worn for extended periods of time without discomfort. The midrange is unquestionably prominent and although the bass could benefit from more oomph, the warm, summery tones in general are blissful to listen to.
The AD700s are very affordable and can be picked up for under £100, if you hunt around. You can't escape the design though, which is an acquired taste and a strange fit too, which rather lets these cans down, as the appearances fail to match the elegance of their sound output.