Will Brits who choose to splash out on Motorola's 10in Android tablet, Xoom, be able to view Adobe Flash-encoded content? Americans won't.
According to US network operator Verizon, the Xoom's Flash support is "expected Spring 2011", and not when the tablet goes on sale on this coming Thursday, 24 February.
The omission would be of small consequence had not so many Android tablet makers chortled so loudly that their offerings deliver "the full web experience" - code for Flash support - because their chief rival, Apple's iPad, infamously does not.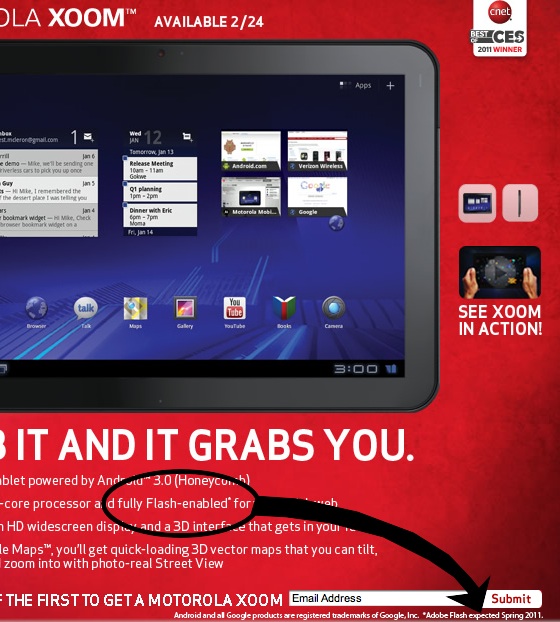 Motorola will be selling the Xoom in the UK through Carphone Warehouse, but since the tablet isn't expected here until some time in Q2, it should have Flash on board at launch.
The sound you can hear is a host of CW and Motorola UK staffers touching wood all at the same time.
To be fair, Motorola is not the first tablet maker to face such a Flash fail.
Toshiba's first tablet, the Folio 100, was dropped by exclusive UK seller Dixons because it didn't do Flash. It has now gained Flash support - a feature manufacturers and retailers will tell you is essential for UK sales success - and will be relaunched next month.
Speaking of Dixons, a mole tells us that its Vega tablet has suffered from Flash playback woes, though again, this is expected to be sorted any moment now.
This is the problem with Flash. Every hardware and software combo needs to be certified by Adobe.
In the past, Intel often touted its Atom chip as superior to ARM because the standard platform it provides will run Windows and Linux Flash players out of the box. ARM-based devices need specially coded Flash players, because of the subtle differences in ARM chips, which are made by different vendors out of the technology templates ARM provides.
That's not a reason to abandon ARM - it has many advantages over Atom, not least its impressive power efficiency - but it shows how 'ARM plus Android' is not the standard platform you might assume it to be.
It also explains why so few other tablet makers are rushing to market with Android 3.0 Honeycomb devices. ®
Similar topics