Oracle needs to protect and preserve the server business that Sun Microsystems built up with telecommunications firms and service providers. And that's why the company is moving its homegrown Sparc T3 processor into a new line of ruggedized, DC-powered Netra machines.
The Sparc T3 chip was launched in September 2010 and is the first chip to come out of Oracle since the company acquired Sun a little more than a year ago. The Sparc T3, formerly known as "Rainbow Falls," comes with either eight or sixteen cores running at 1.65 GHz. Each core has eight instruction threads and a single floating point unit. For the sixteen-core version, the Sparc T3 offers roughly twice the performance of the predecessor Sparc T2 and T2+ chips, which had eight cores with eight threads per core. The Sparc T3 chip has 6 MB of shared L3 cache memory.
Back in September, Oracle put the Sparc T3 chips into four different machines: the Sparc T3-1 (a 2U rack server with a single socket), the Sparc T3-2 (a 3U rack server with two sockets), the T3-4 (a 5U rack server with four sockets), and the T3-1B (a blade server for the Sun Blade 6000 chassis that has one socket).
The new Netra T3-1 rack server is a variant of the Sparc T3-1 machine from last fall, but it has different power supplies and ruggedization features that require the machine to be redesigned a bit. The machine is compliant with the ETSI European telecom standards and are certified at NEBS Level 3 under these form factor standards created by the telecom industry.

Oracle's Netra T3-1 carrier-grade rack server
This Netra T3-1 offers more than twice the oomph as the Netra T5220 it replaces. It has a 16-core T3 chip running at 1.65 GHz with a total of 128 threads; the Netra T5220 had a single 1.2 GHz chip with eight cores. The Netra T3-1 server has 16 memory slots and supports 4 GB and 8 GB DDR3 main memory sticks, for a maximum of 128 GB of total memory. The system comes with four hot-plug SAS-2 2.5-inch disk slots in the front with room for a skinny DVD drive above the cooling fans on the front of the unit.
The server has five PCI-Express 2.0 x8 peripheral slots, four Gigabit Ethernet ports, and two optional 10 Gigabit Ethernet XAUI connections. It has an Integrated Lights Out management (ILOM) service processor with its own Ethernet port. The server has redundant power supplies for either AC or DC power rated at 1,200 watts.
The Netra T3-1 supports Solaris 10, Oracle's current Unix variant. In an entry configuration with 16 GB of memory, two 300 GB disk drives, and either AC or DC power, the base Netra T3-1 server costs $23,069. Boosting memory to 64 GB on the machine raises the price to $27,629. Configuring the Netra T3-1 with its full 128 GB of memory and full 1.2 TB of disk pushes the price up to $48,527. The regular Sparc T3-1 server has a lot more room for disk expansion (up to sixteen drives) and has prices that range from $18,642 to $44,234 in similar configurations as the Netra version of the box. The Netra version has a lot more fans in the front to keep the box cool in the tougher enviromments telcos have and therefore cannot have as much disk capacity.
The Netra T3-1BA blade that Oracle is also debuting is quite a bit different from the Sparc T3-1B blade that came out last fall. The Netra Sparc T3 blade server adheres to the Advanced TCA (ATCA) form factor standard put out by the telco industry, while the regular blades from Oracle are based on a proprietary form factor created for the Sun Blade 6000 chassis. (To its credit and its profit, Sun has always supported ATCA, PICMG, and earlier telco standards, while other server makers have sometimes supported but usually do not. All server makers offer commercial server blades and chassis that are incompatible because they want lock-in and control.)
The Netra T3-1BA does not use the 16-core T3 chip, but rather a 12-core variant where four of the cores are duds. (Oracle did not explain why and did not return requests for more information as El Reg went to press.) This 12-core T3 chip also runs at a lower 1.4 GHz clock speed and has 96 threads. The Netra T3-1BA has a single processor socket. Oracle says that the new Netra blade has 50 per cent more cores and threads than the single-socket CP3260 ATCA blade it replaces using a 1.2 GHz Sparc T2 with six or eight cores. That's about 15 per cent more oomph per core plus 50 per cent more cores. That's about 73 per cent more raw oomph, blade for blade. Provided memory is not a bottleneck since both the old and the new Sparc blades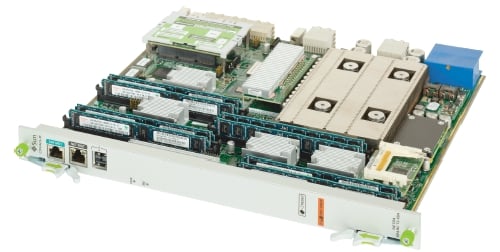 Oracle's Netra T3-1BA carrier-grade blade server
The Netra T3-1BA blade server has eight DDR3 memory slots and only supports 4 GB memory sticks, for a maximum of 32 GB of main memory. The blade has a CompactFlash-2 slot for flash memory modules, one AdvanceRTM I/O expansion slot, two Gigabit Ethernet ports, and two 10 Gigabit ports. The AdvanceRTM slot allows for different peripherals to be plugged into the blade, with one option allowing for two 300 GB SAS drives and a Gigabit Ethernet port, another with two 10 Gigabit Ethernet ports and three Gigabit Ethernet ports, and yet another providing two 4 Gb/sec Fibre Channel and seven Gigabit Ethernet ports.
The new Sparc T3-based blade runs Solaris 10 as well, obviously. Pricing was not announced.
Oracle has also updated its Sun Fire clusters, but did not elaborate on exactly what is different and Oracle executives did not respond to requests for clarification on what has been updated. It stands to reason that Oracle's existing Sun Fire and Sun Blade x64-based machines have been updated with the new Xeon processors announced last week by Intel. ®
Similar topics