Does the server racket in the United States need another competitor? Acer and its channel partners think so.
The Taiwanese PC maker, which ate rival PC makers Packard Bell and Gateway a little more than three years ago to take the number four position in the market, came out swinging last March in the European server racket concurrently with Advanced Micro Devices' launch of the Magny-Cours Opteron 6100 processors.
Now the company is rolling out an expanded product line and engaging channel partners in the US to push Acer's tower, rack, blade, and tray servers to small and midrange businesses. Considering that this is the home turf of HP, Dell, and IBM, that's a pretty tall order for Acer and its resellers.
Gateway 2000 was the original king of the direct sale in the PC business before Dell stole the idea and perfected it. (Admit it: you remember lusting over the back-page ads in Computer Shopper for the latest Gateway PCs.)
Back in 2005 and 2006, Gateway put out a few rack and tower servers based initially on Intel's Xeon chips and then on AMD's Opterons. The machines were reasonably priced and functionally similar to products from HP, Dell, and IBM; many of the designs were based on custom motherboards and the systems were manufactured in its Nashville, Tennessee factory. This Made in the USA card is something server makers - and especially then-wannabes like Gateway - try to use to their advantage in making a sale.
But Acer is not interested in using Gateway's direct-sales technique for servers and is instead using its own channel approach that in only a matter of years has made it the number-two PC shipper worldwide, ahead of Dell and behind HP.
The upshot of pushing Acer servers through the channel is that the company doesn't have to provide proper spec sheets and pricing for its products. But you can get a sense of the machines that Acer is peddling here, or check out a monster PDF including all of the spec sheets (such as they are) for all of the 16 new servers here.
Acer started selling a few Xeon-based servers last fall, and the lineup in the United States includes a mix of Xeon and Opteron boxes. The AT line includes five tower servers, including a single-socket Opteron 4100 machine, three single-socket Xeon 3400 machines, and a dual-socket Xeon 5600 machine. Acer is keeping the industry convention of ending a Xeon machine's product number with a 0 and an Opteron machine's moniker with a 5.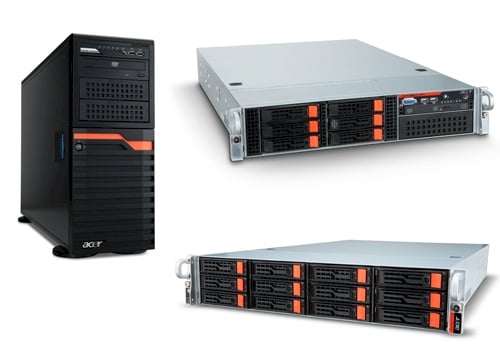 Acer's AT tower and AR rack servers.
The AR lineup from Acer includes six rack servers, all of them two-socket boxes using either Opteron 6100 or Xeon 5600 processors. The AR385 and AR585 (both 2U servers) use Opterons, while the AR160, AR160, AR320, and AR360 are 1U boxes using the Xeons and the AR180 and AR380 are 2U machines based on Xeons.
Acer's blade lineup in the United States includes the AB 7000 chassis, which holds ten vertically mounted blade servers and has room for two QDR InfiniBand or 10 Gigabit Ethernet switches in the back of the 7U rack-mounted chassis. The AB460 blade server that plugs into this chassis is a single-wide, full-height blade, and it sports two Xeon 5600 sockets and a dozen DDR3 memory slots. Each AB460 blade has room for six 2.5-inch hot plug disks.
The AB2x280 blade sacrifices two of the disk drives in the blade and jams two skinny two-socket Xeon 5600 motherboards into the same space, doubling up the compute density. Each of the skinny mobos in the AB2x280 blade has only eight memory slots.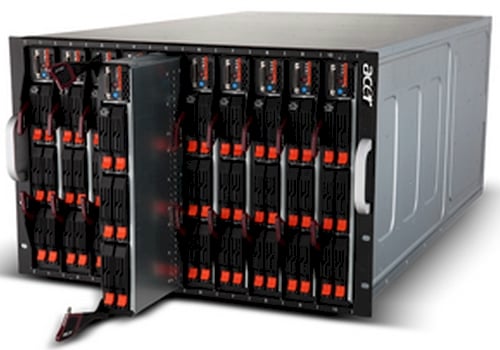 Acer's AB7000 chassis and AB blade servers.
Finally, Acer is also peddling tray or cookie-sheet servers, known as the Gemini family, which put multiple server nodes inside of a rack-mount chassis and have them share peripherals and power supplies.
The cookie-sheet server chassis is the AW2000h and it holds four server nodes in its 2U form factor. The AW170hq is a two-socket Xeon 5600 node that slides into this chassis, and nodes come with Ethernet, DDR InfiniBand, or QDR InfiniBand options. The AW175h is a two-socket node based on AMD's Opteron 6100 processors, and comes with Ethernet and QDR InfiniBand networking options on the nodes. The AW170htq node puts a GPU on a server node plugging into a PCI-Express 2.0 x16 slot, and two nodes fit into the AW2000h chassis. This is not particularly dense, by the way, with Super Micro doing twice that density on CPU-GPU combinations, and supercomputer maker Appro International doing twice as good again on the CPU-GPU density.
On the storage front, Acer is rejiggering one of its Xeon boxes to be a Windows-based NAS – that's the AN1600. The company is also reselling a number of SAN arrays from Japanese disk maker Hitachi Data Systems. These are the AS2040 (up to 120TB), the AMS2100 (up to 236TB), and the AMS2300 (up to 472TB).
To whet the appetite of current and potential channel partners in the US, Acer put out a few entry prices on its server and storage gear. In the AT line, the entry price us $721, while rack servers in the AR line start at $1,105. The Gemini AW cookie sheet servers start at $3,584 and the base AB blade setup will run you $2,300. The base AN1600 NAS box will run $10,499. Pricing for the three HDS/Acer joint products, which will not be available until later this year, was not revealed. Without configuration information on any of this gear, these entry list prices are essentially worthless.
Acer, like Gateway did, is touting the fact that it will be building and configuring its servers inside the US, which will meet the Buy American requirements of local and state govermnents, Uncle Sam, and the many HPC facilities and university data centers that it helps fund.
And Acer is promising its server partners that unlike all of the other players in the US, it has a completely indirect sales model. That means Acer's Server and Storage Division will not be stealing any sales from them, and will, in fact, be coming up with channel support and joint marketing efforts to try to steal some business from HP, Dell, and IBM.
Stealing business away from former Sun Microsystems resellers, who have been all but shut out of the biz in the wake of the Oracle acquisition a year ago, should be the easiest place to start. If Acer were a real wise-guy outfit, it would certify Solaris 10 on all of its server platforms and go right at the Solaris installed base. ®