This article is more than 1 year old
Poynt for BlackBerry
Getting straight to the Poynt
Review Poynt is an app that offers local info quickly and easily on your smartphone. It's available in Android and iPhone flavours, but looks and works best on a BlackBerry running OS6.
Originally, the high-end Torch 9800 was the only BlackBerry to incorporate OS6, but has been joined by a clutch of cheaper sisters in recent months.
Download Poynt for free from BlackBerry App World and you're ready to start searching. There are lots of apps for finding local businesses, but the best thing about this one is that it's fast. It delivers general searches in a few seconds over HSDPA, a little faster if you're connected via Wi-Fi.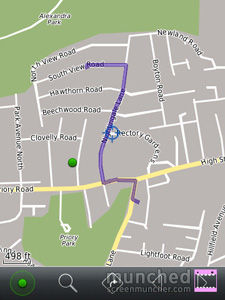 Poynt is an example of what BlackBerry refers to as a 'Super App', drawing upon BlackBerry's ability to integrate app functions with the native applications of the device - for example, you can enter restaurant details into your device's contacts or add restaurant dates into your calendar, with just a couple of clicks,
With BlackBerry OS6 you can begin typing into the universal search function from the home page and it will offer you a selection of apps to search with, including Poynt. Once launched you're presented with options to search in business, cinema, or restaurants (which doesn't include pubs – a trick missed, perhaps?).
You can also do a general search and typing in 'flowers', for instance, will deliver local florists, 'bike' will get you bike shops etc. You'll need to have your GPS turned on of course. As soon as you make a request it maps your location and pulls up a list of suggestions, all of them nearby.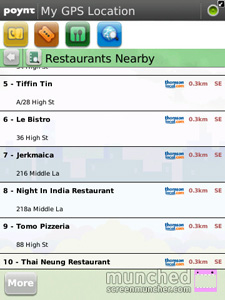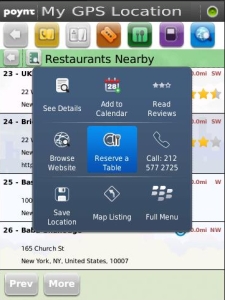 It's well integrated with other BlackBerry functions and has just about everything else you need in one place. Click on the name of a business and you get the option to call them with one press, save the location to your contacts or map your route to get there using either BlackBerry or Google Maps (if you've installed it).
With some restaurants you can even book a table directly from within the app and log it in your calendar. The menu pops up in the centre of the screen in a see-through window too, an arrangement that looks better than the functional Android and iPhone versions for instance.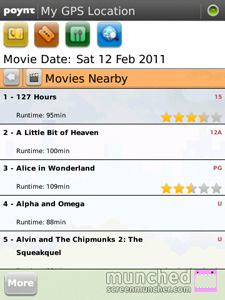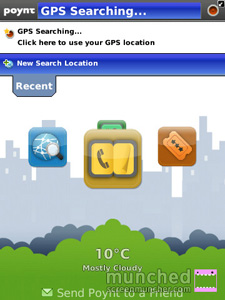 It uses data from several sources including Thomson Local, TopTable and Bing to find what you're looking for and did a good job of identifying local businesses in my north London bolthole. The cinema option will bring up what's showing near you.
Another click will tell you where it's playing. You can also search for cinemas, top ten, genre and specific films, with ratings, trailers, reviews (via critic site Rotten Tomatoes) and website links also available. You can save film screenings to your calendar and in some cases you can buy tickets directly using your BlackBerry too.
Verdict
Poynt makes light work of local search and is well integrated into the functionality of the OS6-powered BlackBerry Torch 9800. It works quickly, generally accurately, and of course the price is just right – well worth investigating. ®

Poynt for BlackBerry
Local search app