This article is more than 1 year old
HTC 7 Pro WinPho 7 smartphone
Qwerty contender ready for business
Review Any Windows Phone 7 device will give you a virtual Qwerty keyboard on its touch screen, but the HTC 7 Pro is one of the very few to offer a proper, slide-out hard key version, and the Dell Venue Pro's vertical slider pales in comparison to this one.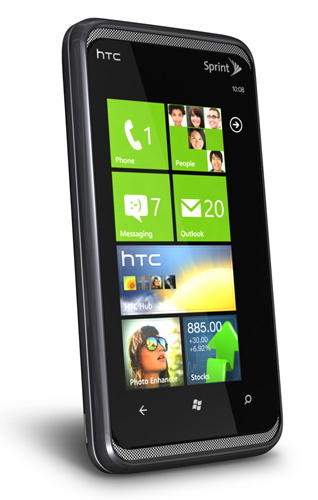 Touch or type: HTC's 7 Pro
It's not an outsize handset like HTC's HD 7, but it is chunkier than the norm at 118 x 59 x 16mm and 185g, with a metal casing topped and tailed with rubberised plastic. The 3.6in multi-touch capacitive screen sits above touch sensitive versions of the three WP7 buttons and on the sides are a volume rocker, micro USB power/sync slot, and camera button, with 3.5mm headphone jack and power/sleep button on top.
To get to the keyboard you'll need to slide the screen to the right, which is a bit stiff, but as it emerges there's a surprise in store. Just as the keyboard becomes fully exposed, the screen tips smartly upwards, giving you an good viewing angle while you're typing. It will also balance on its own in this position, if you want to set it down while you watch a video.
HTC has had plenty of experience in delivering a quality keyboard experience, and it shows. The 51 keys (count 'em) spread over five lines are made of nicely tactile rubberised plastic and well spaced for easy access. They're not all the same size – return and space are larger, which is ideal.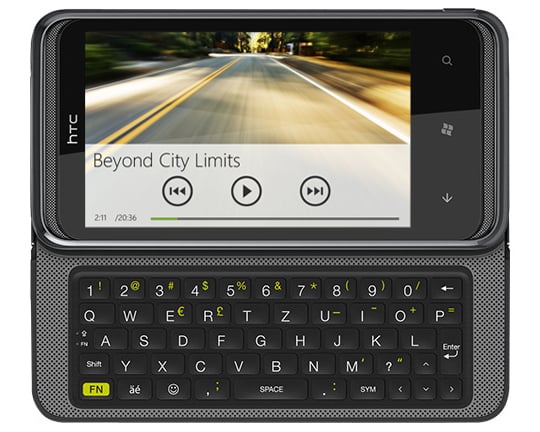 Responsive, but the varying key sizes require a little more care for some tasks
The four cursor keys are very small indeed, but still perfectly easy to use, though you'll need to use the tips of your thumbs. The keys have got just the right amount of travel and they're backlit too with shift controls highlighted in 'HTC green'. You could argue about some of the key choices – there's a dedicated smiley key that brings up a large (44) range of emoticons, but you need to hit the shift key to get an @ symbol, for instance – but it's an excellent experience overall.