Tosh shows off snazzy external drive
But is it art?
---
Toshiba has introduced a snazzy-looking but oddly named line of external drives called STOR.E ART 4, with a 1.5TB model coming.
There are four announced products, all using 2.5-inch drives, with 500, 640, and 750GB capacities and a 1TB range topper. They come in glossy black cases with capacity-coded colour accents: red for 500GB, green for 6540GB, blue for 750GB, and white for 1TB.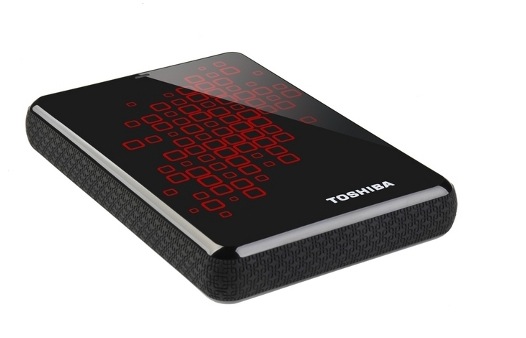 A 1.5TB product is coming later this quarter and it will have silver accents. Unless another supplier intros a 1.5TB product in the meantime, Toshiba will be second to Seagate in shipping a 1.5TB external 2.5-inch drive; Seagate's 1.5TB FreeAgent GoFlex having been announced in September last year.
Western Digital has a 1TB My Passport Essential SE portable drive using USB 3.0. Hitachi GST has various external portable drives all of which top out at 500GB.
Toshiba's 500 and 640GB STOR.E ART 4 products have 13.5mm thick cases while the larger capacity versions have 16.5mm thick cases. This obviously means the larger drives have an extra platter and we are finding out if the platter numbers are two and three, or three and four: we suspect three and four. The 1.5TB FreeAgent GoFlex has four platters.
The spin speed has not been revealed, but we think it's 5,400rpm.
All the versions use a USB 3.0 interface (cable included) and feature 256-bit encryption. NTI BackupNow EZ software is included and we assume the drives can be used as a MacBook Time Machine target, ignoring this backup software. These new Tosh drives will ship this quarter. ®