Apple brands Intel 'Light Peak' as Thunderbolt
High-speed IO just rebranded DisplayPort tech?
---
Apple's take on Intel's 'Light Peak' high-speed IO technology will be call Thunderbolt, it has emerged, and it will be delivered through the new MacBook Pro's DisplayPort connector.
Throughout the morning, snaps have appeared online showing the specification stickers on the back on the new MacBook boxes. The first ones were in German, but now English ones have been posted too.
They say the same thing. The key bullet point reads: "Thunderbolt port supports high-speed I/O and Mini DisplayPort devices".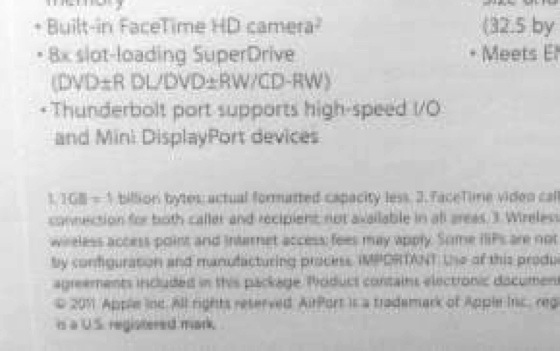 Source: MacRumors.com
A snap of the port array on one of the new machines shows the Mini DisplayPort now sports a lightning icon - the same image used on promo material posted elsewhere.
Easy to Photoshop, of course, but MacRumors claims to have confirmed the legitimacy of the picture, initially posted on French-language site Mac4Ever.

Source: Mac4Ever
It all begs the question: is Light Peak - in its non-optical form - merely a clever way of sending non-video data over a DisplayPort link? DP 1.2 can do more than 20Gb/s over four 5.4Gb/s lanes - pretty much what Light Peak is said to deliver. ®