For the past couple of quarters, I have been refining my model of IBM's server business, and I think with the incarnation I built to analyze the company's fourth quarter and full year results for 2010, I have something that is closer to reality than I have ever put together before.
And it shows just how much Big Blue is, despite all of its jaw-boning about services and Smarter Planet, dependent on good, old-fashioned systems.
You know, systems. What the System/360 and the System/38 were, and what the Application System/400 was. A collection of integrated server platforms with operating systems, storage, and maintenance all balled up into one package. In the old days and in the current IBM i and System z days, this usually means a stack of systems software such as middleware for managing transaction processing and databases for storing data. But I can't extract that data from IBM's numbers, so I have to stick with servers, operating systems, storage, and maintenance to get a sense of the "real" IBM systems business.
IBM doesn't provide revenue figures for any of these products, but does give some figures in its most recent quarterly reports that are indications of how business is doing. With the percentages of revenue and per cent change year-on-year figures that Big Blue provides for various parts of its business, those who persevere and start with some good revenue assumptions at the beginning of their model can come up with something that must be pretty close to reality. I've been doing this for more than five years now, backcasting and tweaking the numbers to fit each new set of figures that Big Blue tosses out and popping ibuprofen when necessary to bend it all into shape.
Here's what the most current set of numbers looks like for the company's three server lines: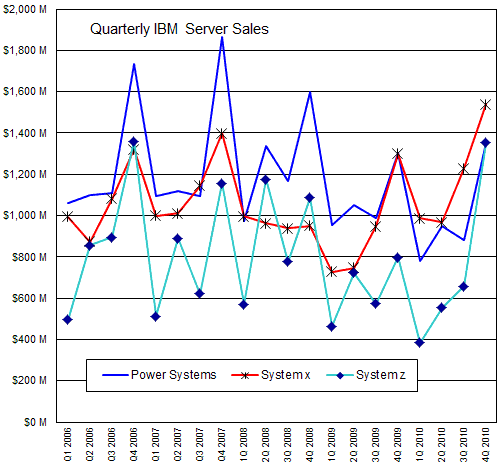 The Power Systems line was, as you can see clearly from the chart, the dominant platform in terms of revenues for IBM in 2006, 2007, and 2008, and while the System z mainframes had some good quarters, the product was at the end of a long cycle with the z10 machines and was hurting badly in 2010.
But as you can see from this chart, thanks to the System zEnterprise 196 machines that started shipping last September, IBM mainframe sales were nearly identical to Power Systems sales and both were roughly in the range that System x machines (which includes x64-based BladeCenter blade servers) set in the final quarters of 2006 and 2007. However, as well as Power Systems and System z mainframe sales did in the final quarter of 2010 - a statistical heat at $1.35bn by my model - neither beat IBM's revenues from System x machines in Q4 2010, which came in at $1.54bn.
And I will make a prediction right here and now: Unless something radical happens in the computer industry - like someone nukes Intel's fabs or IBM decides to stop selling x64-based machines - neither Power Systems nor System z mainframes will ever surpass System x sales again. Well, until IBM puts the z/OS software stack onto Power Systems iron and converges the lines - or better still, IBM ports all of its operating systems to x64 chips and wipes its hands of the server chip racket entirely.
On a full-year basis, IBM's System z business raked in just under $3bn according to my model, up 15.1 per cent over 2009's pretty awful results. In a normal year, the mainframe should do around $3.5bn - like what used to be a normal year for the AS/400 all by itself in the mid-to-late 1990s. The Power Systems business, which has averaged just over $5bn with the i and p lines added together from 2006 through 2008, fell by 15 per cent to $4.3bn in 2009 and fell another 7.7 per cent in 2010 to just under $4bn. IBM may be eating market share in the Unix biz, but it has been losing around 22,500 OS/400 and i customers per year for the past five years. Hopefully this has stabilized in 2010. And for all four quarters of 2010, the System x biz brought in $4.72bn in revenues, up 26.8 per cent.