Scientists have identified a new species of Early Cretaceous sauropod - a six-tonne beast with a fearsome set of rear legs which have prompted paleontologists to dub it "thunder-thighs".
A team including Dr Mike Taylor of University College London unearthed the remains of an adult and juvenile in Hotel Mesa Quarry in Grand County, Utah. According to the team's report summary in the journal Acta Palaeontologica Polonica, the adult specimen packed an eye-catching hip-bone, aka ilium, which is "proportionally taller than in any other sauropod, 52 per cent as high as long".
It continues: "The large preacetabular lobe of the ilium anchored powerful protractor and abductor muscles."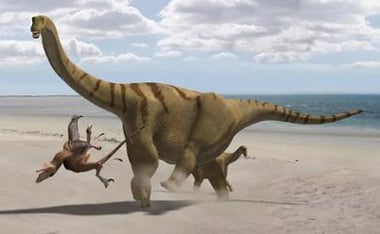 Taylor explained to the BBC: "As you put the skeleton together, you can run muscles down from the hip-bone to join at the knee and that gives you a whopping thigh.
"If predators came after it, it would have been able to boot them out of the way."
Taylor backed his kick-like-a-huge-mule theory by dismissing the idea that these thunder thighs were built for speed. He said: "What's interesting is that if it were a sauropod that could move particularly fast, you would expect to see very strong muscles on the back of the leg to pull it along. But we don't; this is the opposite. It seems most likely to us that what this is about is being able to deliver a strong kick."
Accordingly, the team dubbed the creature Brontomerus mcintoshi – from the Greek bronto (thunder) and merós (thigh). The "mcintoshi" bit of the name comes not from a belief that the animal had a synthetic waterproof skin, but is rather "in honor of veteran sauropod worker John S McIntosh, whose seminal paleontological work, done mostly unfunded and on his own time, has been an inspiration to all of us who follow", as the team's full report (PDF) into the find puts it.
The scientists admit that "precise interpretation" of Brontomerus mcintoshi's thunderous thighs is "impossible without functionally related elements such as femora and proximal caudal vertebrae".
They weren't able to recover more of the animals' skeletons due to extensive plundering of the Hotel Mesa Quarry. Taylor lamented: "The fossil-hunters basically pillaged this site. They left behind broken remnants and smashed bits of bone; and in some cases they were using broken bones to hold down tarpaulins – that's really the most disgraceful aspect of it."
The BBC has more on the find and its significance here. ®