Firefox 4 is now available for Android, able to sync bookmarks with its desktop cousin and offer a stable, if occasionally slow, browsing experience.
Available as a free download for Nokia's Maemo-based N900, and in the Android Market for 2.0 and above, the new beta release of Firefox takes a long time to start up, and occasionally stalls for a second or two, but it does offer a usable alternative to the default browser. It has its own pros and cons, of course.
Initially we thought one of those cons was the inability to automatically reformat text when zooming, but it turns out that's in the preferences – and the double-tap brings up a readable version in the way users have become accustomed to. Pinch-zooming also works smoothly, and beyond the sides of the HTML page lurk controls for tabs (on the left) and navigation (to the right).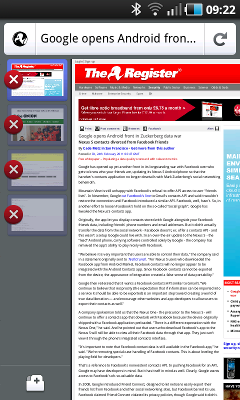 The side bars slide on when one goes beyond the HTML
Playback of Flash content is lacking, despite being supported on the platform, which could become a problem if it is not addressed in the next few versions, but the "Save as PDF" function is a welcome addition – which could be a killer function for some users. Even more interesting is the catalogue of Add-Ins which can extend the functionality of the browser just as they do the desktop version (no AdBlock yet, but it is surely on its way).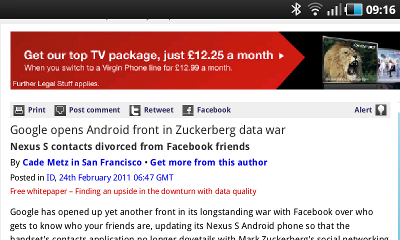 Works very well in landscape too
Previously branded as Fennec – named after a small breed of desert fox with endearingly large ears – the diminutive browser from Mozilla was always intended to share a name across platforms for the sake of brand consistency. Mozilla reckons the Firefox name has popular appeal, and even had a fox wandering around Mobile World Congress to promote the brand (it may have been a human dressed up as a fox, we're not experts on that kind of thing).
One might question why Android needs another browser; the built-in browser works acceptably well, and we already have Opera. But greater competition can drive innovation, and integration with the desktop brand becomes important as mobile browsing moves away from the peeking-through-the-keyhole-to-get-the-data-I-really-need model towards an extension of the desktop experience. ®
Similar topics