This article is more than 1 year old
Intel throws Thunderbolt
USB 3.0 smackdown!
Now we know why Intel was dragging its feet with USB 3.0 support - it's got its own competing interconnect that's twice as fast in Thunderbolt (formerly known as Light Peak).
Thunderbolt is a 10Gbit/s, bi-directional, dual channel, copper link containing an Intel controller chip and supporting two protocols: DisplayPort and PCIe. Intel says a high-definition movie can be transferred across it in less than 30 seconds (neglecting to tell us the size of the file).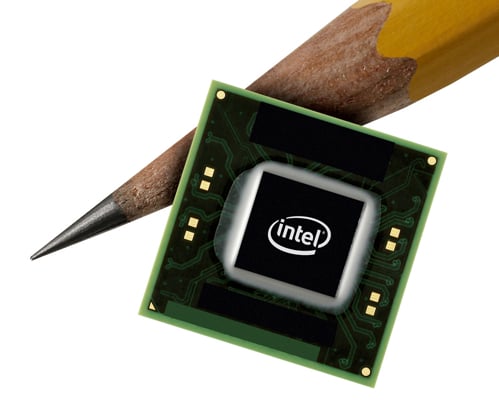 Thunderbolt controller chip (Intel photo).
Six peripherals can be daisy-chained onto it and, like USB, power can be supplied to connected peripherals: up to 10W.
It was designed as an optical interconnect - that's what "Light" Peak meant - but copper has proved to be more practical for now. It is basically a serial bus, a single cable with both PCIe data transfer protocol into a host's memory or PCIe-connected peripherals, and DisplayPort for displays that can have greater than 1080p resolution and up to eight audio channels.
This side of Thunderbolt is compatible with existing DisplayPort displays and adapters, so Apple will be pleased. Bob Mansfield, the Mac hardware engineering SVP, said: "With ultra-fast transfer speeds, support for high-resolution displays and compatibility with existing I/O technologies, Thunderbolt is a breakthrough for the entire industry and we think developers are going to have a blast with it."
FireWire is going to be blasted away, that's for sure. Apple is so pleased it has adopted Thunderbolt for its new MacBook Pro. We can forget eSATA as well. If it is cheap enough then we can kiss USB 3.0 goodbye too.
Thunderbolt can be, Intel's release claims, the only connector needed for ultra-thin laptops. It says Thunderbolt is "complementary to other I/O technologies that Intel continues to support," meaning, we guess, USB. Yeah, complementary like a cannibal is to a vegetarian. Does Intel take us for fools?
If Thunderbolt spreads into the Windows PC market and (whisper it) tablets, then Intel stands to make billions of the controller chips needed. The revenue implications for an Intel chip-only interconnect in that case are wonderful - for Chipzilla. It gets a stranglehold on PC and Mac interconnects like it has a stranglehold on laptop, desktop and commodity servers processors.
Is that likely? Initial Thunderbolt adoptees include Aja, Apogee, Avid, Blackmagic, LaCie, Promise and Western Digital. The last three make storage for both Macs and X86 notebooks, desktops and servers. Do you need a weatherman to see which way Intel wants the wind to be blowing? ®